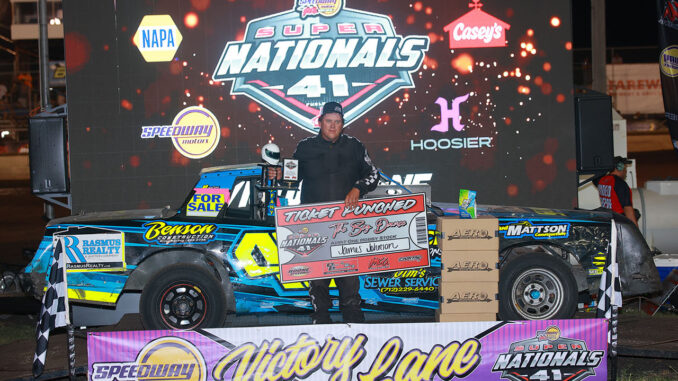 BOONE, Iowa (Sept. 4, 2023) – On a record setting night for Hobby Stocks at the IMCA Speedway Motors Super Nationals fueled by Casey's, James Johnson made a run into the record book.
The Cherokee driver hotshoed all the way from last starting in the field of 30 to win the Monday night qualifying feature, earning the pole start in Saturday's Big Dance at Boone Speedway.
A Super Nationals record 159 Hobbies saw action during the Labor Day show, topping the previous mark of 153 set in 2004 and matched in 2012. Johnson proved to be the fastest of them all after running second in the 12th of 15 heats and starting as far from the front as possible in the evening's qualifier.
"We tried something different and made a little adjustment," Johnson said from victory lane. "We stayed up 'til sunrise celebrating after winning the Prelude (on Sunday). We might be up a little later celebrating this win."
He was followed across the stripe and into the inside row of the main event by Cory Probst, Skylar Pruitt, John Watson, Tucker Richardson, Christian Cook, Brandon Nielsen and Bradly Graham.
Probst and Watson ran 1-2 early in the 25-lapper before defending Super Nationals champion Zach Olmstead completed his charge from 16th starting to the lead on the 11th circuit.
Johnson was the biggest mover, however, racing to the top five by lap 16 and passing Watson for third the next time around. Olmstead's big lead disappeared with a late yellow and Johnson shot to the lead and into the Super Nationals history book on the restart.
Olmstead pulled up lame with a flat tire, exiting with a DNF. Probst and Pruitt were both quick but not quick enough and had to chase Johnson to the checkers.
"We had to get redemption from last year," said Johnson, part of the main event fracas that sidelined Nielsen and Mike Smith as well. "I'm ready for Saturday."
Qualifying for both Hobby Stocks and Northern SportMods continues Tuesday at Boone, along with races of champions for both divisions and the complete Sport Compact program.
IMCA.TV broadcasts the entire week of the Sept. 4-9 IMCA Speedway Motors Super Nationals fueled by Casey's.
Feature results – 1. James Johnson, Cherokee; 2. Cory Probst, Brewster, Minn.; 3. Skylar Pruitt, Stuart; 4. John Watson, Des Moines; 5. Tucker Richardson, Morning Sun; 6. Christian Cook, Coon Rapids; 7. Brandon Nielsen, Spencer; 8. Bradly Graham, Victor; 9. Zach Hemmingsen, Marne; 10. Andrew Burk, Milan, Ill.; 11. Tristan Grape, Bellwood, Neb.; 12. Cody Hubbell, Rolfe; 13. Joe Doran, Paton; 14. Michael Kimm, Vinton; 15. Tanner Jones, Boone; 16. Steve Bitting Jr., Phoenix, Ariz.; 17. Matt Wahl, West Des Moines; 18. Aron Fye, Alden; 19. Malik Sampson, Worthington, Minn.; 20. Zach Olmstead, Overton, Neb.; 21. Mitchell McNeill, Guthrie Center; 22. Josh Vancannon, Ogden; 23. Seth Butler, Scranton; 24. Drew Barglof, Sioux Rapids; 25. Jim Ball Jr., Independence; 26. Mike Smith, Lake City; 27. Scott Wetter, Platteville, Wis.; 28. Braden Gifford, Boone; 29. Chad Rigby, Madrid; 30. Andy Hoffman, Sioux City.