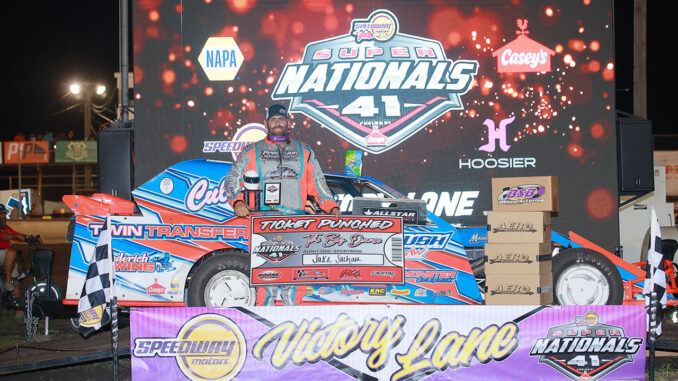 BOONE, Iowa (Sept. 4, 2023) – Both started mid-pack in their respective qualifying features but Tyler Bannister and Jake Sachau ultimately took different routes to victory lane and front row starting spots for Saturday's IMCA Speedway Motors Super Nationals fueled by Casey's main event.
Bakersfield, Calif., pilot Bannister was promoted to the top spot in the finish for Monday's first qualifier at Boone Speedway following the post-race disqualification of Logan Anderson for an engine compartment infraction.
Bannister had started the 25-lapper from 12th, was briefly in the lead before midway and then ran behind Anderson the last 14 circuits.
He'll start on the pole in the Big Dance, in front of Hunter Longnecker, Tony Olson, Cole Suckow, Ty Rogers, Alex Smith, Robbie Thome and Braden Richards
Prelude winner Sachau made his way to the from 10th starting in the nightcap, passing defending Super Nationals champion Matt Looft just after midway.
"I love running the top and that's where I was running," he said. "Starting 10th, I wasn't even nervous. This car is a rocket."
Joining Sachau on the middle row Saturday will be second through eighth place finishers Logan Cumby, Colby Fett, Tyler Nerud, Willy Kirk, Bryce Allen, Shane Paris and Connor Barnes.
Qualifying for both Hobby Stocks and Northern SportMods continues Tuesday at Boone, along with races of champions for both divisions and the complete Sport Compact program.
SPEED SPORT.TV affiliate IMCA.TV broadcasts the entire week of the Sept. 4-9 IMCA Speedway Motors Super Nationals fueled by Casey's.
1st qualifying feature – 1. Tyler Bannister, Bakersfield, Calif.; 2. Hunter Longnecker, Woodward; 3. Tony Olson, Cedar Rapids; 4. Cole Suckow, Cresco; 5. Ty Rogers, Yuma, Ariz.; 6. Alex Smith, Algona; 7. Robbie Thome, Spalding, Neb.; 8. Braden Richards, Madrid; 9. Taylor Kuehl, Cave Creek, Ariz.; 10. Kamren Gruber, Munjor, Kan.; 11. Brian Schrage, Cresco; 12. Colton Keel, Anna, Texas; 13. Brady Hilmer, Dysart; 14. Chris Burke, Altoona; 15. Dakota Girard, Moberly, Mo.; 16. Carter VanDenBerg, Oskaloosa; 17. Spencer Galaway, York, Neb.; 18. Cody Rass, Sturgeon Bay, Wis.; 19. Troy Bayne, Hershey, Neb.; 20. Les Lundquist, Sioux City; 21. Joe Reetz, Dunlap; 22. Josh Barnhart, Colby, Kan.; 23. Ryan Reed, McCausland; 24. Bill Wegner, Armstrong; 25. Hunter Smith, Fort Morgan, Colo.; 26. Jacob Arp, Donahue; 27. Tyler Frye, Belleville, Kan.; 28. Garrett Nelson, Osceola.
2nd qualifying feature – 1. Jake Sachau, Manning; 2. Logan Cumby, Quincy, Ill.; 3. Colby Fett, Algona; 4. Tyler Nerud, Dorchester, Neb.; 5. Willy Kirk, Sloan; 6. Bryce Allen, Stanton; 7. Shane Paris, Muscatine; 8. Connor Barnes, Lindsborg, Kan.; 9. David Schwartz, Greenfield; 10. Kyle Olson, Cedar Rapids; 11. Alec Fett, Burt; 12. Derek Murphy, Colorado Springs, Colo.; 13. Tim Eaton, St. Joseph, Mo.; 14. Cam Reimers, Kelley; 15. Clay Erickson, Phoenix, Ariz.; 16. Bryan Morris, St. Charles; 17. Jason Bannister, Bakersfield, Calif.; 18. Charlie Stevens, Algona; 19. Skyler Woods, Beaver Dam, Wis.; 20. Brett Thomas, Walker; 21. Julie Keeler, Farmington, N.M.; 22. Matthew Looft, Swea City; 23. Robby Rosselli, Minot, N.D.; 24. Geoff Olson, Sioux City; 25. Broddy Enter, New Ulm, Minn.; 26. Kaylin Lopez, Chowchilla, Calif.; 27. Ethan Killingsworth, Yreka, Calif.; 28. Nicholas Profeta, Keokuk; 29. Shelby Alves, Sioux Falls, S.D.; 30. Doug McCollough, Webster City