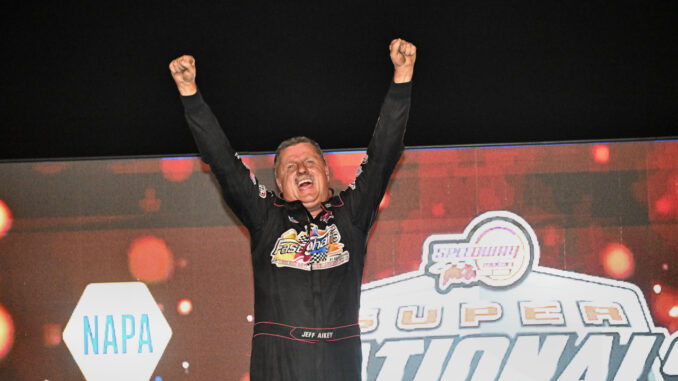 BOONE, Iowa (Sept. 4, 2023) – They'll be updating Jeff Aikey's hall of fame plaque to include another IMCA Speedway Motors Super Nationals fueled by Casey's championship.
The ageless Aikey was a second faster than Corey Dumpert in winning his career seventh Late Model crown, and career eighth Super Nationals title Monday night at Boone Speedway, making good on a promise made earlier in the day to bring home a trophy for his granddaughter.
Both the single and multiple division championship totals are Super Nationals records.
"I tell you what, I'm getting older but I'm still having a lot of fun," said Aikey, who celebrates his 61st birthday late next month. "I could feel Cory behind me. I knew he was there. I just kept my momentum up, and wow."
Aikey had started from outside the front row and pulled away from the rest of the field before cautions on laps 14 and 23.
Texan Dean Abbey, looking to improve on his third place finish a year ago, charged to the front following that second restart, then clipped an infield tire and took himself out of the race a handful of circuits later.
Aikey then ran ahead of Alex Banks and then Joel Callahan before defending Super Nationals champion Dumpert made his way to the runner-up spot.
"I found rubber a little lower and made up some ground," said Dumpert, who pulled to within a car length but could get no closer as the 50-lapper wound down. "He (Aikey) was just too good on the top."
Callahan, Andy Nezworski and Joe Beal completed the top five. Mike Fryer paced the 11 first-time qualifiers with his sixth pace run.
Darrel DeFrance finished ninth in his career 33rd Super Nationals start while Mike Petersilie became just the second driver from Kansas, and the first since 1995, to qualify for the Late Model dance. He ended in 12th.
Aikey's latest Super Nationals title came with a $3,000 check.
He'd previously won Late Model crowns in 1995, 2004 and 2013-2016 before leading every lap in capturing the Modified title in 2018. He now looks to add to his record championship total at Boone on Saturday night.
"I'm not done this week. I've got a pretty bad Modified right now," Aikey said. "We just built a new Modified last week, I put one night on it and got second with it. My plan is to come here and be up front."
"I'm revved up."
IMCA.TV broadcasts the entire week of the Sept. 4-9 IMCA Speedway Motors Super Nationals fueled by Casey's.
Feature results – 1. Jeff Aikey, Cedar Falls; 2. Cory Dumpert, Newman Grove, Neb.; 3. Joel Callahan, Dubuque; 4. Andy Neworski, Blue Grass; 5. Joe Beal, Milan, Ill.; 6. Mike Fryer, Freeport, Ill.; 7. Alex Banks, Newman Grove, Neb.; 8. J.D. Auringer, Waterloo; 9. Darrel DeFrance, Marshalltown; 10. Bobby Hansen, Center Point; 11. Mike Goben, Milan, Ill.; 12. Mike Petersilie, Hoisington, Kan.; 13. Drew Baker, Omaha, Neb.; 14. Cale Osborn, Lexington, Neb.; 15. J.J. Rodeman, Cairo, Neb.; 16. Shane DeMey, Denison; 17. Greg Krohn, Albion, Neb.; 18. Evan Miller, Silvis, Ill.; 19. Blair Kraus, Omaha, Neb.; 20. Dean Abbey, Boyd, Texas; 21. Jake Bridge, Waverly, Neb.; 22. Chance Huston, East Moline, Ill.; 23. Cooper Tilley, Omaha, Neb.; 24. Adam Parmeley, Cadet, Mo.