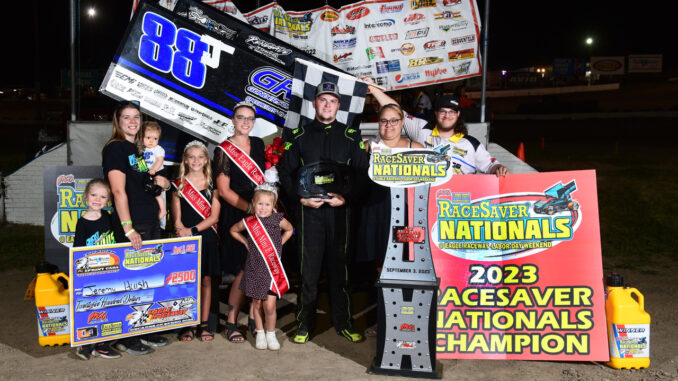 By Greg Soukup
EAGLE, Neb. (Sept. 3, 2023) – Night four of the IMCA RaceSaver Sprint Car Nationals presented by Twin Rivers Jeep Dodge Ram and Twin Rivers Ford was a repeat of nights two and three as far as the weather was concerned.
Each day of racing saw the temperature rising, much like the action on the high banks of Eagle Raceway. It had cooled off to only 98 degrees at race time, matching the heated action that was to come as the Battle For The Belt began in earnest.
Beginning with the "F" Feature, every race meant more and more as drivers tried to advance to the Big Dance where the winner would not only the coveted winner's belt, the top prize of $3,000 but also the knowledge that they had bested the other 86 drivers in attendance.
The spotlight introduction of the 27 warriors, highlighted by 3,000 glow sticks in the stands served to bring the crowd to a fever pitch in anticipation of the battle about to be waged on the high banks of America's Home Track.
Lap one saw Jeremy Huish out front with Jason Danley, Jay Russell and Stu Snyder hot on his tail tank. 2021 champion Tyler Drueke passed Snyder on lap two to move into fourth. Drueke then got around Russell for third on lap five.
Drueke advanced to second on the restart, passing Danley for the position, and drove by Huish for the lead on lap seven.
Lap 20 saw Chris Graf and Chad Wilson get together in turn four, sending Graf flipping and causing a huge pileup behind them at the top of the track including Dustin Clark, Gene Ackland and Trevor Serbus.
Unfortunately, Drueke had been running the high side for a lot of the race, couldn't stop in time and ran into Ackland, who drifted high in four in an attempt to miss the wreck. Ackland suffered extreme damage to his front axle and was done for the night as was Graf.
Drueke went to the work area to replace the drag link on his mount. He restarted in the 18th position. Huish, who had been .736 seconds off the pace before the melee, inherited the lead with Danley, Snyder and Mike Boston in fourth.
The restart saw Snyder advance to second but lose the spot back to Danley the following circuit. Ten laps remained when Tyler Harris passed Boston for fourth. Snyder passed Danley for second with five to go. The last change in the top four came with three to go when Harris also passed Danley for the third spot.
The final top four were Huish, Snyder, Harris and Danley. On a side note, Drueke managed to get all the way back up to the sixth position after he involvement in the crash fest on lap 20.
"It kind of shocks me and hasn't quite settled in yet, but we unloaded with a lot of speed, kept it going all weekend and we had a lot of fun with it," said Huish. "We came up to Eagle for a couple of weekly shows, wanting to expand the notebook a little bit and test some things out. I think it helped for tonight."
"We really didn't change a whole lot of things over the weekend," he added. "The car was fast all weekend and I couldn't be happier."
Huish had finished 17th in last year's RaceSaver Nationals main event. Snyder's second place run was his best in nine career Big Dance starts
"I think it would have been a dog fight," Huish said, when asked if he thinks he could have caught Drueke had the leader not gotten caught up in the lap 20 fracas. "Lapped traffic was very, very congested all over the place. You caught them quickly but just stalled out when you got there. The track had multiple grooves and the lapped traffic was top to bottom, so it would have been a very, very tight race.
"Sometimes it's better to be lucky than good, I guess."
Nine drivers made career-first starts in Sunday's RaceSaver Nationals main event.
Mike Nichols came out of a "B" feature, started deep in the field and won the IMCA Sunoco Stock Car feature.
Kyle Vanover, who'd loaned Nichols a gear, was the runner-up. Matt Boucher and Jed Williams rounded out the top four.
Feature results – 1. Jeremy Huish, Ness City, Kan. 2. Stuart Snyder, Lincoln; 3. Tyler Harris, Vidor, Texas; 4. Jason Danley, Lincoln; 5. Mike Boston, Lincoln; 6. Tyler Drueke, Eagle; 7. Jay Russell, Wathena, Kan.; 8. Zach Blurton, Quinter, Kan.; 9. Trevor Grossenbacher, Panama; 10. Shayle Bade, Raymond; 11. Colby Stubblefield, Seagoville, Texas; 12. Joey Danley, Martell; 13. Cole Vanderheiden, Papillion; 14. Bill Johnson, St. Peter, Minn.; 15. Clint Benson, Papillion; 16. Dustin Clark, Washington, Ind.; 17. Dusty Ballenger, Harrisburg, S.D.; 18. Trevor Serbus, Olivia, Minn.; 19. A.J. Hopkins, Avon, Ind.; 20. Nick Barger, Madison, S.D.; 21. Chad Wilson, North Richland Hills, Texas; 22. Chris Graf, Glencoe, Minn.; 23. Adam Gullion, Lincoln; 24. Gene Ackland, Martell; 25. Jake Galusha, Lincoln; 26. Owen Dimm, Mifflintown, Pa.; 27. Ethan Barrow Bloomington, Ind.