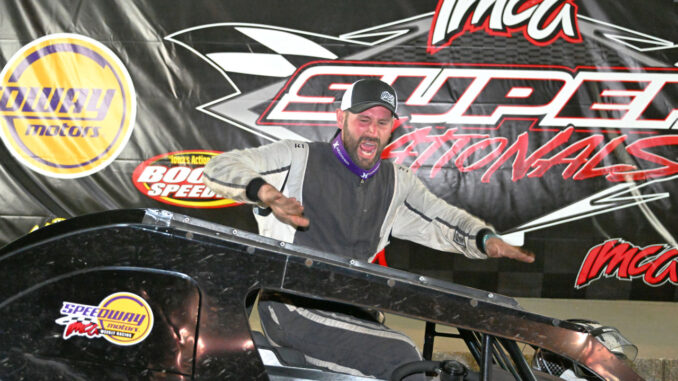 BOONE, Iowa (Sept. 3, 2023) – Ronnie Choate returned to Boone Speedway and the IMCA Speedway Motors Super Nationals fueled by Casey's to run with the best.
On Sunday night, he proved he was the best.
Choate, from Cookeville, became the first driver from Tennessee to win a Super Nationals championship in any division, driving past Jon Padilla on the final circuit for the history-making STARS Mod Lite Big Dance victory.
"This means a lot to us. There have been several big races we have won and this is one of the biggest," said Choate, again sharing much of the credit with brother-in-law, crew chief and Precision Bulldog Chassis partner Logan Rittenberry. "There had been times when we weren't very good and thought about quitting, but I didn't give up, he didn't give up, and here we are."
"We're basically a two-man crew. I couldn't do this without him."
Choate had started fifth and ran somewhere in the top five all 30 laps. R.J. Gonzales, winner of the final qualifying feature held earlier Sunday, battled two-time defending champion Dillon Raffurty over the first five circuits before a two-car tangle in turn three red flagged the race.
Raffurty took charge after the restart but gave way to Padilla before midway, fading before pulling into the infield with a flat tire.
Choate, then Jasen Masengarb, headed the pursuit from that point. Padilla's advantage was more than a second before the final, fateful caution with three laps to go.
"We never would have won it if that caution hadn't come out," Choate said. "I restarted on the inside, had to change my line up to the middle and passed him about the time we were taking the white flag."
The win was good for $2,000. Choate shared the top four podium with three drivers from Illinois, Padilla, Brandon Freeburg and Gonzales.
Seventy Mod Lite drivers from a dozen states competed in the division's third appearance at Super Nationals.
"We came here last year never having seen the track and finished eighth," Choate said, while loading his car and the lion's share of contingency awards into the trailer to get home in time for work Tuesday morning. "It's hard to beat guys like Dillon, R.J. and Jon anywhere. It means a lot to us that we can do it at a track we've only raced at twice."
IMCA.TV broadcasts also broadcasts all six nights of Super Nationals Sept. 4-9.
Feature results – 1. Ronnie Choate, Cookeville, Tenn.; 2. Jon Padilla, Silvis, Ill.; 3. Brandon Freeburg, Metamora, Ill.; 4. R.J. Gonzales, Colona, Ill.; 5. Austin Gray, Story City; 6. Jason Masengarb, Colona, Ill.; 7. Johnny Brown Jr., Mauriceville, Texas; 8. Alex Eischeid, Mechanicsville; 9. Randy Bryan, Ames; 10. Jaedon McDowell, Murfreesboro, Tenn.; 11. Blake Wilson, Mabelvale, Ark.; 12. Josh Hutchinson, Johnston City, Ill.; 13. Chad Cunningham, Mt. Vernon, Texas; 14. Michael Raffurty, Kansas City, Mo.; 15. Josh May, Des Moines; 16. Gage Raines, Searcy, Ark.; 17. Justin Kinderknecht, Salina, Kan.; 18. Bobby Hill, Wilburn, Ark.; 19. Joseph McIntyre, Cleveland, Texas; 20. Cory Sonner, Huxley; 21. William Nobles, West Des Moines; 22. Todd Minner, Murfreesboro, Tenn.; 23. Ben George, Altoona; 24. Jeromy Wilson, Mabelvale, Ark.; 25. Dillon Raffurty, Kansas City, Mo.; 26. Joel Huggins, Des Moines; 27. Joe Glick, Madrid; 28. Tanner Gannon, Des Moines; 29. Garrett Stonum, Lawson, Mo.; 30. Bryce Vowan, Marion, Ark.