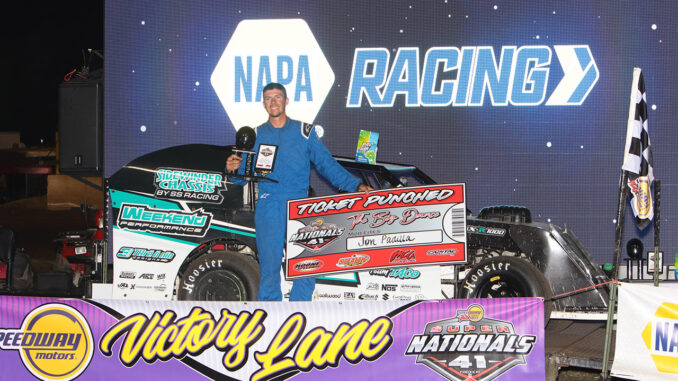 BOONE, Iowa (Sept. 2, 2023) – The drivers who finished 2-1 last year at Boone Speedway will line up 1-2 in this year's IMCA Speedway Motors Super Nationals fueled by Casey's STARS Mod Lite championship event.
2022 runner-up Jon Padilla led start to finish in winning Saturday's first 25-lap qualifying feature, earning the pole start in Sunday's Big Dance.
Two-time defending champion Dillon Raffurty was just as impressive in the second qualifier, outrunning Ronnie Choate following a late restart in his own flag-to-flag run. He'll start from the front of the middle row in the main event.
"It felt great," Padilla said from victory lane, admitting he "didn't know if anyone was keeping up" with him.
Joel Huggins did his best, chasing the Silvis, Ill., speedster around the track the last 24 circuits.
Following the front pair across the stripe and into the inside row in the main event were 14th starting Brandon Freeburg, Josh May, Justin Kinderknecht, Jeromy Wilson, Garrett Stonum, Tanner Gannon, Blake Wilson and Michael Raffurty.
Dillon Raffurty paused to remember his late father, crew chief and fellow driver David after his latest Boone Speedway triumph. That drive was slowed when multi-division star Dallon Murty got upside down early on and by the yellow with three to go.
"It means a lot to me to be able to race at this level. You never know what to expect at Boone because the competition is always so good," the Kansas City hotshoe said in the emotional interview that followed. "Winning here is always the goal. After you do it once, you want to do it again and again and again."
Raffurty and Choate were chased into the middle row by Austin Gray, Jason Masengarb, Joe Glick, Jaedon McDowell, Randy Bryan, 26th starting Bryce Vowan, Bryan Zehm and Todd Minner. Zehm later relinquished his starting spot, hoping to earn a better one on the outside row in Sunday qualifying, moving Joseph McIntyre into the 10th spot.
Seventy STARS Mod Lites from a dozen states vied Saturday, during the Wild Rose Casino Double Down Prelude at Boone. The division's race of champions is also on tap during Sunday's Prelude program.
Both nights of the Prelude and the entire week of the Sept. 4-9 Super Nationals will be broadcast by IMCA.TV.
Qualifying Feature Results
1st qualifying feature – 1. Jon Padilla; 2. Joel Huggins; 3. Brandon Freeburg; 4. Josh May; 5. Justin Kinderknecht; 6. Jeromy Wilson; 7. Garrett Stonum; 8. Tanner Gannon; 9. Blake Wilson; 10. Michael Raffurty; 11. Ben George; 12. Alex Enschede; 13. Johnny Brown Jr.; 14. Dana Chittenden; 15. Kyle Demo; 16. Josh Hutchinson; 17. Layton Bennett; 18. Tim Varney; 19. Christopher Buxton; 20. Darrick Knutsen; 21. Eddie Craft; 22. Michael Mann; 23. Chelsea Ladurini; 24. Dalton Hill; 25. Jeremy Buxton; 26. Brad Harris; 27. Nathan Wolfe; 28. RJ Gonzales; 29. Riley Clem; 30. Ed Griggs.
2nd qualifying feature – 1. Dillon Raffurty; 2. Ronnie Choate; 3. Austin Gray; 4. Jason Masengarb; 5. Joe Glick; 6. Jaedon McDowell; 7. Randy Bryan; 8. Bryce Vowan; 9. Todd Minner; 10. Joseph Mcintyre; 11. William Nobles; 12. Dalton Bell; 13. Dennis Cooper; 14. Chad Cunningham; 15. Jon Braathun; 16. Bobby Hill; 17. Joseph Dunlap; 18. Garrison Anderson; 19. Joe Boyll; 20. Taylor Pollock; 21. Austin McCannon; 22. Mike Pershing; 23. Tyler Furrell; 24. Gage Raines; 25. Mike Kennedy; 26. Ben Blalock; 27. Joe Butler Jr.; 28. Cory Sonner; 29. Dallon Murty; 30. Bryan Zehm.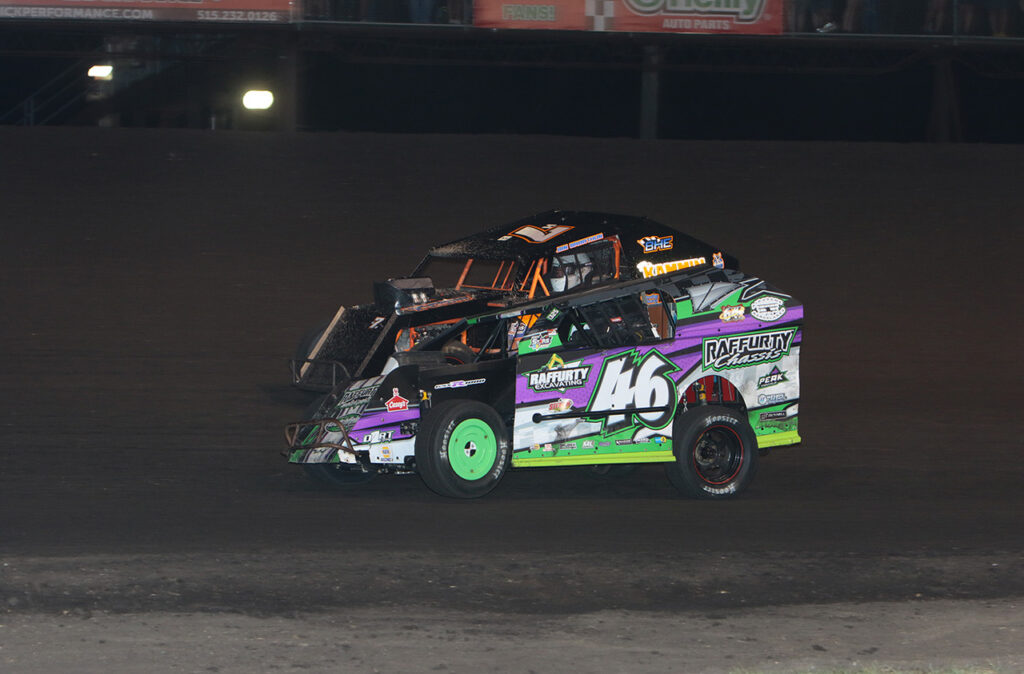 Dillon Raffurty will race for a third straight IMCA Speedway Motors Super Nationals fueled by Casey's crown after winning Saturday's second STARS Mod Lite qualifying feature. (Photo by Bruce Badgley, Motorsports Photography)