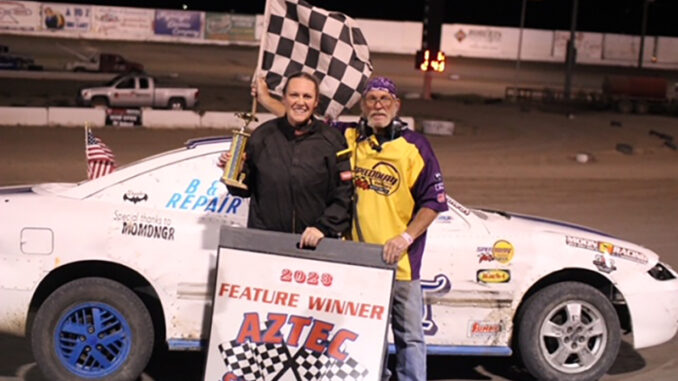 By RaNai Toler
AZTEC, N.M. (Aug. 18 and 19, 2023) – Racing action resumed this weekend at Aztec Speedway with Katie Barthel sweeping Friday and Saturday feature events for the Mach-1 IMCA Sport Compacts.
Barthel found the opening night checkers, from sixth starting, ahead of checkers again in the Sport Compacts followed by Ted Neergaard and Abbi Barthel. Win number 13 on the season for the Ignacio, Colo., speedster came Saturday from eighth starting, and in front of Neergaard and Alfred Hicks.
In the IMCA Sunoco Hobby Stock division, Kyler Duggins soared to another win on Friday followed by Hunter Ferrell and John Thomas. Camron Spangler found victory lane over his father Aaron in the Friesen Performance IMCA Northern SportMod division followed by Rayce Green.
Julian Garcia Jr. won in the Friesen Performance IMCA Modifieds followed by Lindsay, Okla.'s Tim Hamilton and Cameron Martin, while Allen Bradley found IMCA Sunoco Stock Car victory lane for the first time this season followed by Travis Sutherlin and Darrell Cordary.
Night two at Aztec Speedway saw just as much action.
Julian Garcia Sr. taking the win over Cameron Martin and son Julian Garcia Jr. Stock Cars put on one of the best races of the weekend, running three- and four-wide most of the race with ninth starter Steffan Carey taking the checkers followed by Jeramy Hughes and Nathan Lemons.
Lemons bounced back in the Saturday show after rolling on his side Friday.
The Hobby Stock race was no short of excitement with Thomas getting upside down on the first lap and Kaison Zufelt ended up on his roof a few laps later, ending the race early with Jason Duggins getting the win followed by Ferrell and Kyler Duggins.
Northern Sportmods also put on a great race for the fans with Aaron Spangler getting the win over son Camron and Waylon Hale.