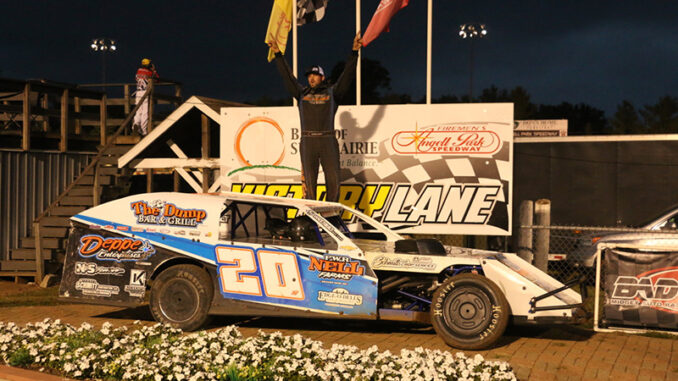 By Zack Krueger
SUN PRAIRIE, Wis. (Aug. 13, 2023) – Brandon Schmitt was crowned the winner of the Friesen Performance IMCA Modified feature, at the end of a grueling 20-lap event Sunday at Angell Park Speedway.
Schmitt outdueled his teammate Dan Roedl to pick up the first IMCA sanctioned event in track history and his second Fast Shaft All-Star Invitational qualifier of the season.
Twenty cars signed in to run the $1,000-to-win IMCA Speedway Motors Weekly Racing National, Razor Chassis North Central Region and Wisconsin State points event. Drivers who have picked up wins at other tracks in the area and made the trip included Schmitt, Jeff Schmuhl, Don Scheffler and Dave Schoenberger. Other drivers competing included Bart Sievert, Doyle Buzzell and even Spencer Diercks all the way from Davenport, Iowa. Matt Rechek found himself running double duty in a Modified and midget.
The main event would see Scheffler line up from the pole with Schmitt alongside in second. Schmitt took the early race lead as Scheffler and Roedl battled for the second place spot.
Yellow flew on lap four as Jeremy Johnson spun in turn two. The field relined up and launched back off as the battle for second between Roedl, Scheffler and Joe Huenefeld heated up. Huenefeld passed for second but was roped back in by Roedl before the second yellow of the race came out, once again for a spun Johnson.
Schmitt led the field back to green, running the low line as Roedl passed Huenefeld for second and set his sights on the no. 20 of Schmitt. The pair went side-by-side a few times, but Schmitt was just too good, pulling a gap in the lead big enough for him to sail to the victory and pick up his third King of the Park event in a row.
Heat race winners were Huenefeld, Schmitt and Trent Wyssbrod.
Feature results – 1. Brandon Schmitt; 2. Dan Roedl; 3. Derek Thompson; 4. Spencer Diercks; 5. Joe Huenefeld; 6. Jeff Steenbergen; 7. Dave Schoenberger; 8. Steve Mueller; 9. Jeff Schmuhl; 10. Mike Schmuhl; 11. Noah Schepp; 12. Mitch Webber; 13. Bart Sievert; 14. Jeff Schepp; 15. Doyle Buzzell; 16. Trent Wyssbrod; 17. Don Scheffler; 18. Jeremy Johnson; 19. Mike Wittenburg; 20. Matt Rechek.