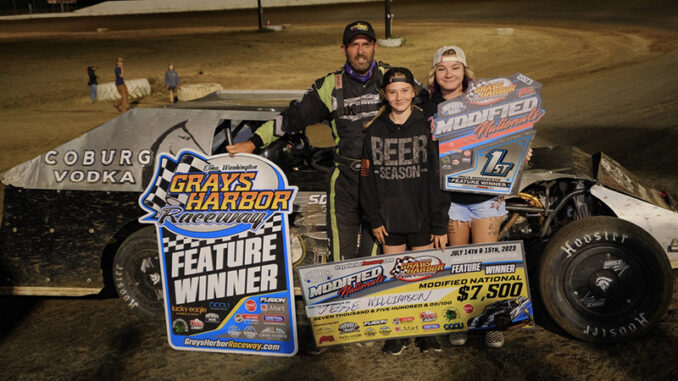 By Aaron Reed
ELMA, Wash. (July 15, 2023) – Jesse Williamson made another trip to victory lane at Grays Harbor Raceway Saturday night, this one worth $7,500.
One night after topping the race of champions at Elma, Williamson outran and outlasted the Friesen Performance IMCA Modified field at Grays Harbor Raceway, topping the 24th annual Shipwreck Beads Nationals main event ahead of 2022 race winner Collen Winebarger.
The Fast Shafts All-Star Invitational eligibility qualifying victory was Williamson's fifth. Grey Ferrando, Geoff Morris and Robert Jenner rounded out the top five.
A who's who of Modified drivers from the Pacific Northwest and Canada vied for starting spots on the 24-car grid and Bricen James took the early lead with Jon DeBenedetti in second and Williamson third.
Lap two saw a multi-car incident on the front stretch and Williamson moved to second following the restart ahead of DeBenedetti, Winebarger and Ferrando.
James put some distance on his challengers, making the most of the bottom of the raceway, but slowed and exited on lap nine with a flat tire. Williamson inherited the lead with Winebarger staying within striking distance. Ferrando, meanwhile, had tough company in the cars of Robert Jenner and Lawrence O'Connor.
Winebarger made it to the back bumper of Williamson during a long green flag run, looking for any mistake. Late in the feature another long green flag run saw Winebarger make a few attempts at the lead as heavy lapped traffic was a huge factor.
Winebarger made it to the leader's side numerous times but Williamson used a lapped car to his advantage.
Lap 38 saw Williamson make contact with a lapped car, resulting in a caution. Multiple attempts were made at the green, white, checkered restart before the race was called on lap 38. Hard charger Tyson Blood gained 13 positions and finished ninth.
Ethan Killingsworth was the $1,000 Friesen Performance IMCA Northern SportMod winner.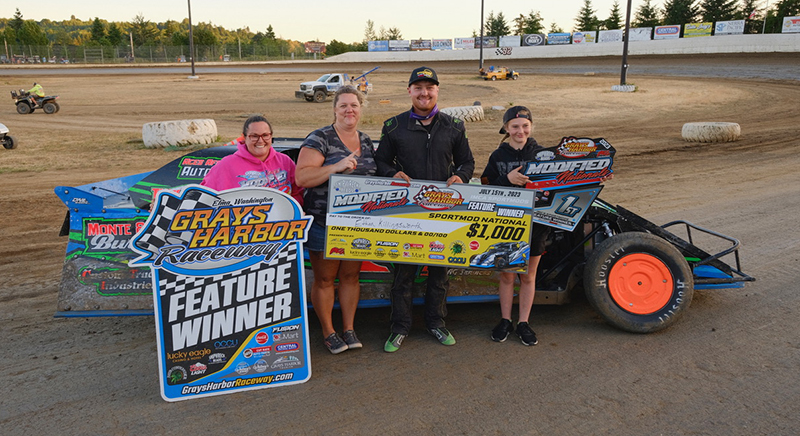 Night two of Shipwreck Beads Nationals saw Ethan Killingsworth collect the $1,000 Friesen Performance IMCA Northern SportMod checkers. (Photo by Eric Lopotosky)