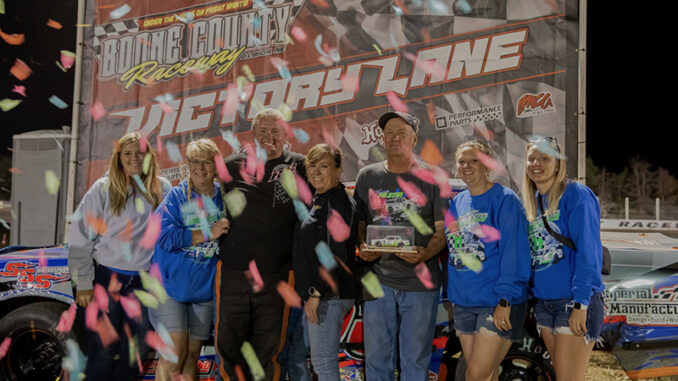 ALBION, Neb. (July 9, 2023) – A couple laps in and Mike Nichols knew he had a pretty good car.
At the end of 30 laps, that pretty good car took Nichols to the highest paying victory in his remarkable IMCA Sunoco Stock Car career, Sunday's Tanner Pelster Memorial at Boone County Raceway.
Nichols raced from 12th starting, passing Tyler Iverson for second and then Jordan Grabouski for the lead in the waning laps of the $6,111 to win main event.
The checkers, Nichols' IMCA best 617th, were accompanied by an automatic starting spot in the B & B Racing Chassis All-Star Invitational.
"We've been out to Albion a dozen times over the years and they always have a good track. They did a great job, with how many cars and races there were. The track was phenomenal. You could run anywhere," said Nichols, from Harlan, Iowa. "We changed our setup after the heat race for more drive in the feature and everything worked like we wanted it to. We knew in the first couple laps that we had a pretty good car."
Running the middle in the first set of turns and higher up on the track in the second, Nichols made his way to third before turning "four or five conservative laps" and then working his way to the front.
"I knew I had to hit my marks on the last lap," he said. "I shut the door in turns one and two and hit the moisture in three and four," before outrunning Grabouski to the finish line.
After the last of the confetti flew, Nichols presented the race trophy, a model of Tanner Pelster's Hobby Stock, to his father Delmer, the promoter at Boone County.
"I've known Delmer for a long time and I knew this would be quite a great tribute race," he said. "I told myself that if I ever won it, I'd give Delmer the trophy."
The win was also Nichols' second in as many nights and 12th on the season. He's won double figure features in a record 22 consecutive seasons.
"It's been a pretty good run, to say the least," said the 11-time IMCA national champion.
Iverson, Tathan Burkhart and Jeff Ware rounded out the top five. Chanse Hollatz was the hard charger, racing from 22nd starting to eighth.
The third annual Tanner Pelster Memorial brought 136 IMCA entries, 72 Stock Cars and 64 IMCA Sunoco Hobby Stocks, to Albion.
Tristan Grape was promoted to the $2,011 Hobby Stock win following a post-race disqualification.