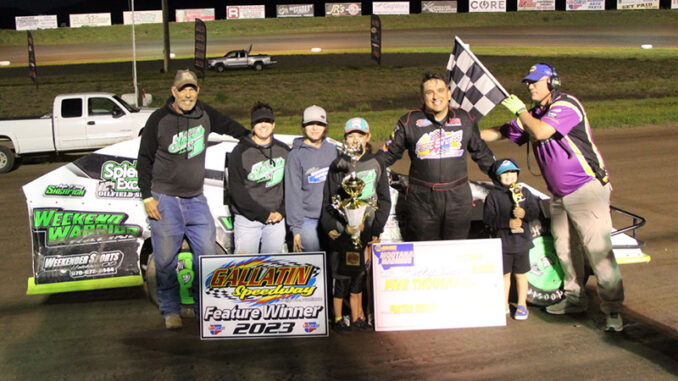 BELGRADE, Mont. (July 1, 2023) – Ricky Alvarado started his 2023 Friesen Performance IMCA Modified racing vacation with the $5,000 checkers at Gallatin Speedway's inaugural Modtana Madness special.
The veteran from Colorado won both his heat races and the pole dash Friday night at Belgrade, then led all 55 laps of Saturday's main event.
"It has been a while since I ran that many laps and it has been maybe 10 years since I won $5,000 so it was pretty exciting to pull that off," Alvarado said. "I had never raced at Gallatin before and the facility is beautiful. The weather was about as perfect as you could ask for and it was neat to race in front of such a big crowd."
Already Fast Shafts All-Star Invitational qualifying eligible, Alvarado won ahead of home state drivers Ty Clemens, Davon Jadwin and Jordan Tocci. Wyoming's Braxton Yeager completed the top five as Modtana Madness presented by NAPA Auto Parts drew 51 IMCA entries.
"We had a break on lap 25 for fuel. At the start the track was tacky and you could run anywhere," said Alvarado. "As the race went on the top became dominant," he continued. "I ran there in turns one and two, and down low in three and four."
The win was Alvarado's second this season and career 113th in the division.
The Alvarado family vacation continues at Electric City Speedway's Fastest in the Falls July 3 and 4 before following the Dakota Classic Tour July 8-13.