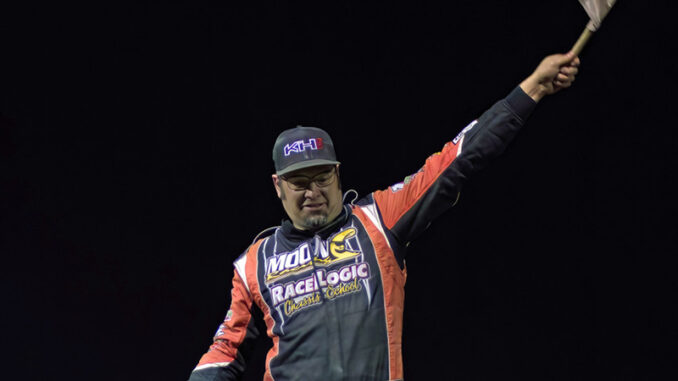 AZTEC, N.M. (April 14, 2023) – After he did some of his best driving just to get to the track, Danny Concelman drove to his Friesen Performance IMCA Northern SportMod career 100th feature win.
Concelman made his first-ever start in New Mexico Friday night, racing to the landmark victory at Aztec Speedway. The checkers flew after the Commerce City pilot negotiated whiteout travel conditions while en route and going over Wolf Creek Pass, in Colorado's rugged San Juan Mountains.
"It's pretty cool. This was something I had never thought about doing. I just race to win," said Concelman, the first driver from Colorado and now the eighth in division history to reach triple digit wins. "I got a call from IMCA last year when we had around 92 or 93 wins. It was like 'Whoa,' so I knew we were getting close and then I got a bunch of wins late in the season."
"We refocused this year and after we got weathered out at North Platte last month, we stuck with our plans to race at Aztec," he continued. "It's a super fast track with a bunch of banking, we got the setup right, started second and led maybe the last eight laps."
"It felt really good to be able to go to a new track and get this win."
Concelman started racing in 1995 during what he termed the Camaro era, bouncing back and forth between Modified and Stock Car divisions before finding a home in the Northern SportMods, a class that gave him the chance to race with more of his Moon Racing customers.
He won 11 features and the first Northern SportMod state crown awarded in Colorado in 2010.
Concelman topped state standings in Wyoming in 2019 before reeling off three straight Colorado state titles. He had a single-season best 22 feature wins, earning three track and two special series championships as well in 2021.
"We won a lot of features that year. Winning that many track and series championships is a tough feat for a weekly racer," he acknowledged. "Winning 100 features is difficult but it's something you do over a career. It's definitely a great accomplishment but I think 2021 might have been harder because we had to do it all in one season."
This season, he'll chase another track championship at Wyoming's Sweetwater Speedway and hit various specials before returning to the IMCA Speedway Motors Super Nationals fueled by Casey's.
Concelman became the first IMCA driver to get career win number 100 this season.