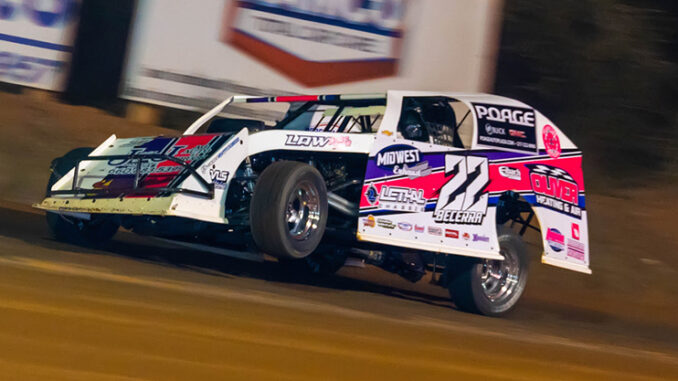 MILTON, Fla. (March 3, 2023) – Austen Becerra worked a little lapped traffic for another big Friesen Performance IMCA Modified win in Florida Friday night.
Becerra chased hometown driver Joseph Joiner to just past midway of the Clash on the Coast presented by IMCA.TV main event at Southern Raceway, making his pass for the lead as the front pair came to the line on the 14th of 25 laps.
He'd lead to the $1,000 checkers, repeating his winning ways from opening night on Monday and flipping the 1-2 finish with Tuesday winner Joiner.
"I knew we'd get to lapped traffic and I saw my chance. He was trying to search and more around, he'd go low and I'd go high," said Becerra, from Carthage, Ill. "A lapped car kind of got him bottled up. He didn't know where to go, I stuck it in there and was able to get the lead in lapped traffic."
The only caution came with eight circuits left, when a lapped car spun in front of Joiner, who was able to avoid contact. Third running Ryan Jenkins exited with a flat tire following the restart and Brint Hartwick would get the best of Dallon Murty for that position late in the race.
Hard charger Jeff Taylor again rounded out the top five, this time from the 19th starting spot.
Fifty-five IMCA entries were on hand Friday at Southern Raceway. The first two Clash on the Coast installments were at Northwest Florida Speedway in Baker.
Feature results – 1. Austen Becerra; 2. Joseph Joiner; 3. Brint Hartwick; 4. Dallon Murty; 5. Jeff Taylor; 6. Jesse Enterkin; 7. Ashton Wilkey; 8. Ryan Gillmore; 9. Jonathan Joiner; 10. Owen Barnhill; 11. Travis Denning; 12. Bill Roberts Jr.; 13. Jacob Campbell; 14. Spencer Hartwick; 15. A.J. Ward; 16. Eddie Sites; 17. Chuck Sanders; 18. Ethan Braaksma; 19. Ryan Jenkins; 20. Todd Neiheiser; 21. Brian Ray Flowers; 22. Ryan Fowler; 23. Jeremy Russell; 24. Greg Hopkins.