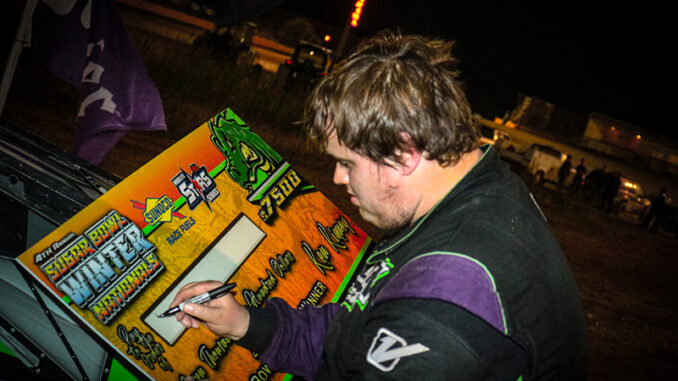 CLEWISTON, Fla. (Feb. 11, 2023) – Dillon Raffurty thought he had the car to win last year's Sugar Bowl Winter Nationals presented by Sunoco Race Fuels.
When he returned to Hendry County Motorsports Park for the fourth annual IMCA STARS Mod Lite special, he won almost everything but Saturday night's 50/50 drawing. 
Raffurty led all but the first circuit in winning the 30-lap headline event at Clewiston, taking the $7,500 checkers nearly four seconds ahead of runner-up Jimmy Wills.
"This was the perfect way to start the season. Three points races and three wins," said the two-time defending IMCA national champion from Kansas City, Mo. "Our total for the week (just shy of $10,000) was way more than I was hoping for coming down."
Fifty-eight drivers from a dozen states and Canada vied over the course of the Feb. 8-11 special and nine of those states were represented on Saturday's main event grid.
Defending race winner Ronnie Choate started outside Raffurty on the front row and led the first lap, then went to the back of the field after bringing out the second of two cautions that flew on the next circuit.
Raffurty was chased by Delaware speedster Wills and New York hotshoe Justin Williams the rest of the way. His advantage was three seconds at midway and 3-1/2 seconds before a long green flag run ended with a lap 19 caution.
No one could muster a challenge to Raffurty the last 12 times around the track. Wills and Williams both advanced seven spots to complete the top three, Josh May was a plus eight to fourth and Jeff Asher earned hard charger honors after winning his last-chance race, starting 21st and ending in fifth.
Raffurty had pocketed $1,000 for his Wednesday night win in the manufacturers' race and $500 for Twin 25 feature wins Thursday and Friday, along with a $250 share of Yoshimura bonuses paid to the top three finishers in the main event.
"I thought when we came down last year that I had the car to win," said Raffurty, third in the 2022 Sugar Bowl Winter Nationals finale. "We didn't leave here last year in the best of moods but we're pretty happy now."
Raffurty upped his division-leading total to 63 IMCA STARS Mod Lite career wins.
Iowan Joel Huggins won the race of champions on Wednesday and the first of two Twin 25 features Thursday night.
Home state winners were Stevie Throop in Friday's first feature and Cory Moore in the Saturday non-qualifiers' feature.
Feature results – 1. Dillon Raffurty; 2. Jimmy Wills; 3. Justin Williams; 4. Josh May; 5. Jeff Asher; 6. Drew Hannay; 7. Stevie Throop; 8. Joel Huggins; 9. Billy Beard; 10. Ben George; 11. Michael Raffurty; 12. Tracy Fritter; 13. Kyle Demo; 14. Larry Hubbard Jr.; 15. Nathan Wolfe; 16. Chase Walls; 17. Jeff Teeters; 18. Joe Isabell; 19. Todd Minner; 20. Robbie Smith; 21. Riley Clem; 22. Ben Blalock; 23. Ronnie Choate; 24. Chase Nornberg; 25. Jaedon McDowell.