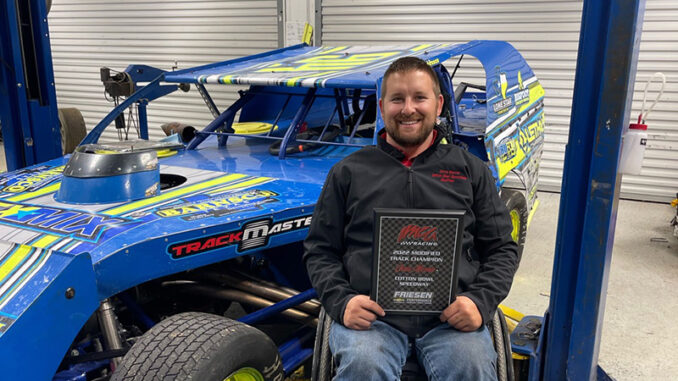 TAYLOR, Texas (Dec. 20, 2022) – Chris Morris put the focus on winning a track championship and having fun in his seventh Friesen Performance IMCA Modified season.
He did both, racing to 11 feature wins in all and his career first track title, at Cotton Bowl Speedway.
"We were focused on the Cotton Bowl championship and wherever we fell in the region was going to be good enough," said Morris, from Taylor, Texas, and third in the GRT Race Cars South Central standings behind William Gould and national rookie of the year Matthew Day. "It turned out to be a pretty fun year."
After topping the opening night show at Texana Raceway Park, he'd park in victory lane eight times at Paige and twice at Heart O' Texas Speedway. Morris had another 14 top five finishes in his 34 home region starts.
"We've got a lot of laps at Cotton Bowl. It definitely fits my driving style and I went into every night knowing what I needed to do with the car," he said. "I've gained confidence in my ability in the car (a 2021 Lethal Chassis) at different tracks. Even on our off nights when we were out of town, we were able to make adjustments and still do pretty good."
Morris has been making and fine-tuning adjustments since starting his Modified career.
Despite a broken back suffered in motocross practice that left him paralyzed from the waist down, Morris remained passionate about the sport and traded one of his old bikes for his first Modified roller.
He steers with his left hand and operates a control shaft for the gas and brakes with his right.
"My dad Nick and I came up with the idea. It's something we borrowed from airboats," he explained. "It's the same exact setup integrated into every chassis I've had. I'm comfortable with it and it works real well for me."
Two highlights of Morris' 2022 season came when fiancée Brenda Kirby won the Aug. 5 feature at Heart O' Texas in his backup car, and when he joined Wade Pistole Jr. in a pre-Labor Day trip to Wyoming and Gillette Thunder Speedway's three-day East West Clash.
"Brenda and I met at Cocopah's Labor Day Weekend race in 2020 and we've been a couple for a little more than a year and a half," he said. "It was fun getting to race with her (Brenda was fourth in points at Cotton Bowl) and I'm going to play around a little next year in a crate model I'm buying from her dad."
They'll say their I do's next October. Don't be surprised if they honeymoon the month before in Gillette.
"Gillette is super slick. It's a momentum track and we don't have anything like it around here," said Morris, runner-up in the Saturday night Clash show. "I had a really good time there and would definitely be interested in going back."