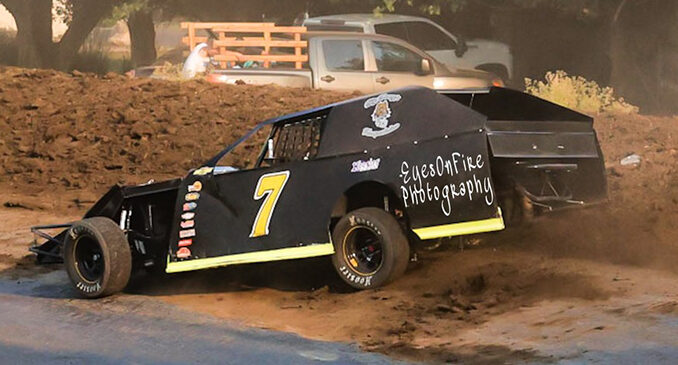 RENO, Nev. (Nov. 28, 2022) – Katelynn Robertson punched her ticket to the national awards banquet, racing with the big boys and winning rookie of the year honors in the Shaw Race Cars Western Region. 
Robertson had a pair of feature wins and consistent showings throughout her 31 starts at six different tracks in California and Nevada, far exceeding any expectations she had for her first Friesen Performance IMCA Modified season.
"At the beginning of the year, I didn't think we'd see top five in anything," admitted the Susanville, Calif., native and Reno, Nev., transplant. "Then we realized how close we were to being able to run at the front."
"That was pretty cool. I still can't believe it. Winning the regional rookie of the year is one of my proudest accomplishments," she continued. "It was definitely a lot of work. We ran with the big boys in the division, we did a lot of traveling and it all paid off. It was pretty neat to race from last to the top five and even neater to be able to win."
Her checkers came in back-to-back starts at Battle Mountain Stock Car Raceway in late June.
"That was awesome. We wanted to chase points and run for rookie of the year and that weekend gave us a huge boost. Proving what I was capable of was an amazing feeling," the 2020 DeVilbiss Chassis driver said. "I had raced a go kart and mini stock before so the biggest thing I've had to do this year is learn how to drive the Modified."
"The Modified is so much faster than anything I've raced before. It's way different than the mini stock. It's definitely a lot of fun and you feel more like you're actually racing."
She's the third female driver in seven years to win the Western Region rookie of the year, following Kelsie Foley in 2016 and Kaitlyn Sample last season.
"I couldn't do it without my Papa Lary, he's the one who gets me on the track. I'm already looking forward to next year," said Robertson, fourth in points at American Valley Speedway and fifth at both Battle Mountain and Diamond Mountain Speedway. "It's going to be exciting. I want to go to more specials and I want to win more races."
Wins, 2 – Top Fives, 6 – Starts, 31
Her Crew: Grandfather Lary Whitebird, Shala McLeod and Jason Emmot.
Her Sponsors: Mother Shayna, fans, Leanne Bacon and Sid Saville, and Big Dawg Transportation, Bonzii, JB Portables, Les Swab Tires and Reece Mini Storage, all of Susanville, Calif.