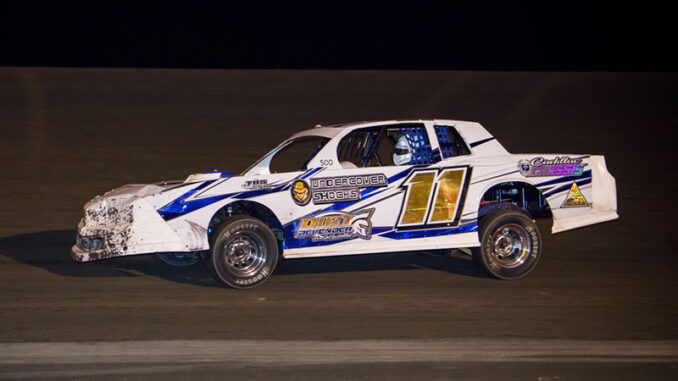 FORT WORTH, Texas (Nov. 28, 2022) – Cameron Cook went into his first IMCA Sunoco Stock Car season looking to run with the best and win rookie of the year.
He did both, and became a state champion, too.
The 22-year-old from Fort Worth won two features and consistently finished in the top five en route to earning both the EQ Cylinder Heads Southern Region rookie of the year award and the Texas State championship.
"I'm a hometown kind of driver. I had run a factory stock since I started racing five years ago so I had never raced anything too extravagant. I wanted to race an IMCA Stock Car because those are some of the best drivers in the country," Cook said. "You can only get so good running one class. Racing with the best makes you 20 times a better driver."
Campaigned in a 2021 Cadillac Chassis owned by Ryan and Christy Anderson, his first checkers came on Aug. 12 at Heart O' Texas Speedway, his second just eight days later at Kennedale Speedway Park.
"My first win was probably the highlight of the season. It seemed like we had had a lot of second place finishes (eight of them) before that night, and then we won again the next week," said Cook, also the factory stock track champion at KSP this year. "When we started the season we just wanted to win rookie of the year. I wasn't expecting to get the state championship, too."
Seventeenth nationally and fourth in the region, Cook was runner-up in point standings at Heart O' Texas and third at home track Kennedale, some 10 minutes from home.
"For a kid coming out of the factory stocks and into the Stock Cars, we did pretty good," he said. "The Stock Car is way more radical than the factory stock with the way the left front tire gets up on the air. You've got to drive them harder and they have way more motor."
Cook started his own home remodeling and construction business this spring. His father Marvin raced in a local street stock class and brother Jason is a current factory stock competitor.
Wins, 2 – Top Fives, 25 – Starts, 51 
His Crew: Girlfriend Haley Bowles and son Cayson, parents Marvin and Christie Cook, Ryan and Christy Anderson, Justin Anderson and Caleb Cherry.
His Sponsors: Big Red Auto Parts and TRS DFW, both of Kennedale; Team Nine Designs of Bonham; Dirt Defender of Waxahachie; Synergy of Arlington; Cadillac Chassis of Wooster, Ark.; and Midstate Machine of Des Moines, Iowa.