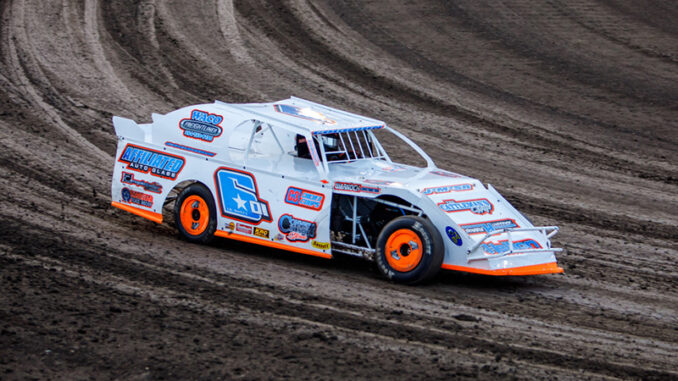 ROBINSON, Texas (Nov. 18, 2022) – After racing to his career first IMCA Smiley's Racing Products Southern SportMod feature win, Trevor Cogburn celebrated the Texas way, ordering a Number One at Whataburger.
After winning national rookie of the year honors, he'll celebrate at the IMCA awards banquet in Lincoln, Neb.
The 17-year-old Robinson High School senior, a graduate of the local junior limited class, got Southern SportMod win number one midway through the season at home track Heart O' Texas Speedway, then collected another three checkers on the way to earning top rookie honors.
"I wanted to get at least three wins this season. I wanted to be competitive and I wanted my family to be proud of me," said Cogburn, who followed his father Chris into the division. "We were able to get four wins and numerous top fives."
"Watching my dad is how I got started racing and how I've learned," he added. "He's helped me out a lot, especially this year. This is the first season he hasn't raced in 30 years."
Aging out of the junior limiteds after winning 17 of 25 starts in 2021, Cogburn showed steady improvement while adjusting to a new set of motor, carburetor, spoiler and shock rules in the IMCA class.
"I think what I enjoyed most about the Southern SportMod was the competition," he said. "You get a basic set of rules from IMCA so talent is the biggest reason why you get faster. Everybody races side-by-side so it's hard to get a win here."
He ran in the top five in six of seven starts preceding that first win May 20 at Waco.
"I started second row inside and was chasing (2015 rookie of the year) Taylor Florio," he recalled. "I went to the top and didn't lift. That race became a game changer, one of the best nights of my life."
Three more of the best nights of his life would follow, with two of those wins coming at Kennedale Speedway Park.
"We said we were going to race for rookie of the year and we got it done," said Cogburn, who wrapped up the title with the checkers in his final start of the year at KSP. "It means a lot to us that we were able to do it."
Wins, 4 – Top Fives, 16 – Starts, 41
His Crew: Parents Chris and Crystal, brother Weston, Morgan Kinsey, uncle Chandler Simons, grandparents Sandy and John Simons, Big Duke Petersen, Lance Robila and Garrett Rawls.
His Sponsors: Double H Livestock of Hubbard; C3 Chicken Coops, Old West Cowboy Church, Rocket Café and Southwest Maintenance, all of Robinson; Affiliated Auto Glass and Waco Freightliner, both of Waco; Lonestar Truck Group of Grapevine; Urain Racing Fuels of Elm Mott; El Conquistador of Bellmead; Warnock Construction and Cattleman's Wife Boutique, both of Valley Mills; Wade White Trucking of Gholson; Wicked Fast Transmission of Lorena; Conners Crushed Stone of Reagan; CRS Suspension of Boyd; Mo Bag Suspension of Gladwater; Hellion Race Cars of Hewitt; and IRP Race Cars of Longview.