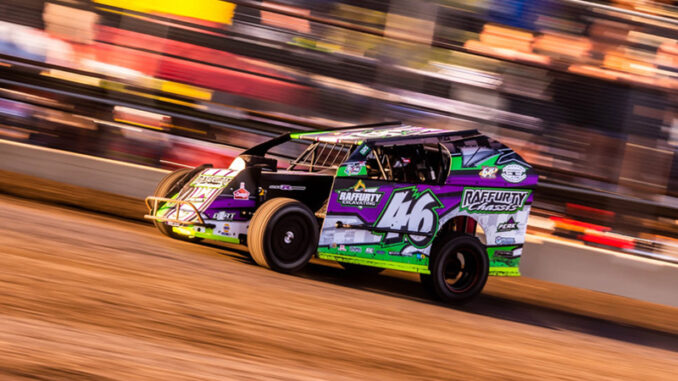 KANSAS CITY, Mo. (Nov. 15, 2022) – Dillon Raffurty made it his mission in his second IMCA season to show the success of his first sanctioned STARS Mod Lite season wasn't a fluke.
He was nearly perfect in proving it.
The Kansas City star won 30 of his 35 starts and a second straight STARS Mod Lite national crown in 2022, repeating as winner of the Race of Champions and champion at the IMCA Speedway Motors Super Nationals fueled by Casey's as well.
"Last year I felt I had a lot to prove and I kind of raced for myself. This season we dedicated to my dad David, who died in January, and a lot of good things happened," said Raffurty. "I put his memorial sticker on the left side of the dash so he raced with me all this year."
After a February vacation to Florida for the Sugar Bowl Winter Nationals, a lot of good things happened for Raffurty during two separate streaks of 15 straight wins, from April 15 to June 25 and again from July 9 to Sept. 24.
During those spans, Raffurty won all seven of his starts at US 36 Raceway and all 17 at Valley Speedway, earning track titles at both, and was undefeated in 25 Missouri outings in capturing the state crown.
A DNF at Marshalltown and a runner-up finish at Salina Speedway separated the two winning streaks.
"Valley is a little bit bigger track and definitely has its own character to it. US 36 has more banking and it's hammer down," Raffurty said. "I ended up in the wall avoiding a big wreck in front of me at Marshalltown, then fixed the front end, went to Salina the next week to shake down the car and finished behind Justin Kinderknecht, who was really fast that night."
He came up big at a pair of late-season events, Valley's David Raffurty Memorial and the $10,000 to win Texas Mod Lite Nationals in Waco.
"We wanted to repeat as national champion but I would never have believed we would win the race of champions, Super Nationals, the memorial race for my dad and that Texas deal," Raffurty said. "We traveled a little less and raced more specials at the end of the year. We definitely ended the season with a bang."
"Winning Super Nationals was special but my two biggest wins now have to be the memorial race and the Texas Mod Lite Nationals," he added. "That was the first time I had ever raced at Heart O' Texas. There were a lot of good cars there. It's always good to be the guy who wins the big check."
The Raffurty family was again well represented in IMCA STARS Mod Lite national standings. Dillon's brother and crew chief Michael was fourth, cousin Justin was sixth and uncle Jeff eighth.
Wins, 30 – Top Fives, 33 – Starts, 35
His Crew: Brother Michael and mother Sherry.
His Sponsors: Raffurty Chassis and Raffurty Excavating, both of Kansas City; and Crutchfield Racing Engines of Chickamauga, Ga.