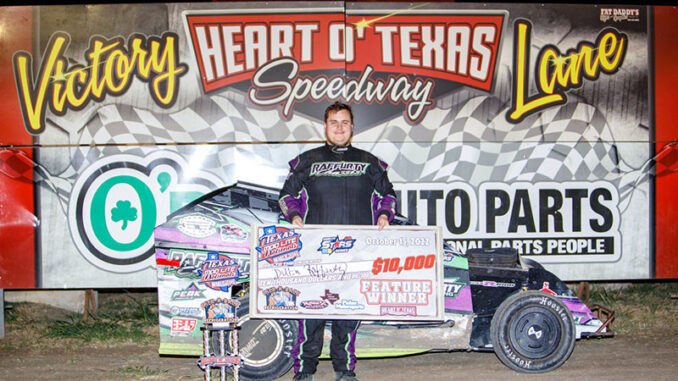 WACO, Texas (Oct. 15, 2022) – After he consulted Google Maps to decide on gear for the weekend, Dillon Raffurty didn't need any help finding the fastest way around Heart O' Texas Speedway. 
Raffurty's first visit to the Waco speedplant paid off with the $10,000 checkers at the first annual Texas Mod Lite Nationals.
"It was a pretty good weekend," understated Raffurty, who had collected 30 wins in defending his IMCA STARS Mod Lite national championship this season. "It was exciting. I couldn't have asked for much more."
The Kansas City, Mo., star won both heat races and the Joe Butler Jr. Invitational, and finished fourth in the qualifying feature on Friday night.
Satisfied with his setup, Raffurty eschewed hot laps before Saturday's main event. He advanced to second early in the 30-lapper, closed on home state speedster Taylor Hunter in lapped traffic and made his pass to the front just pass midway.
Hunter chased Raffurty to the checkers in a race that ran caution-free.
"Size-wise, Heart O' Texas is a combination on my home track Valley Speedway and Boone, but it's tight and narrow and its own unique little deal," Raffurty said. "My two Super Nationals wins were huge but my top two wins now are my dad's memorial race (in September at Grain Valley) and now this $10,000 to win race. With the $500 for the invitational win and the $250 Yoshimura bonus, this was my best payday by far."
Iowan Austin Gray rounded out the podium and Yoshimura bonus recipients. The top five was represented by drivers from as many states as Californian Riley Clem and Tennessee's Ronnie Choate were next across the stripe.
Sixty-six entries from a dozen states and coast to coast vied in the inaugural Kick-N-Back Refrigeration sponsored special.
Gage Raines won the feature for non-qualifiers.
Feature results – 1. Dillon Raffurty; 2. Taylor Hunter; 3. Austin Gray; 4. Riley Clem; 5. Ronnie Choate; 6. Randy Bryan; 7. Logan Brown; 8. Jason Reavis; 9. Mike Zemo Jr.; 10. Johnny Brown; 11. Paul McCollett; 12. Alan Knepper; 13. Ben George; 14. Dawson Fisher; 15. Codey Benoit; 16. Blake Wilson; 17. Collin Bender; 18. Corey Babbitt; 19. Ricky Henry; 20. Joseph Penney; 21. Kevin Simkins; 22. R.J. Gonzales; 23. Zack Forster; 24. Chance Hull.
Joe Butler Jr. Invitational – 1. Raffurty; 2. Choate; 3. Josh May; 4. Wilson; 5. Fisher; 6. Benoit; 7. Joel Huggins; 8. Justin Kinderknecht.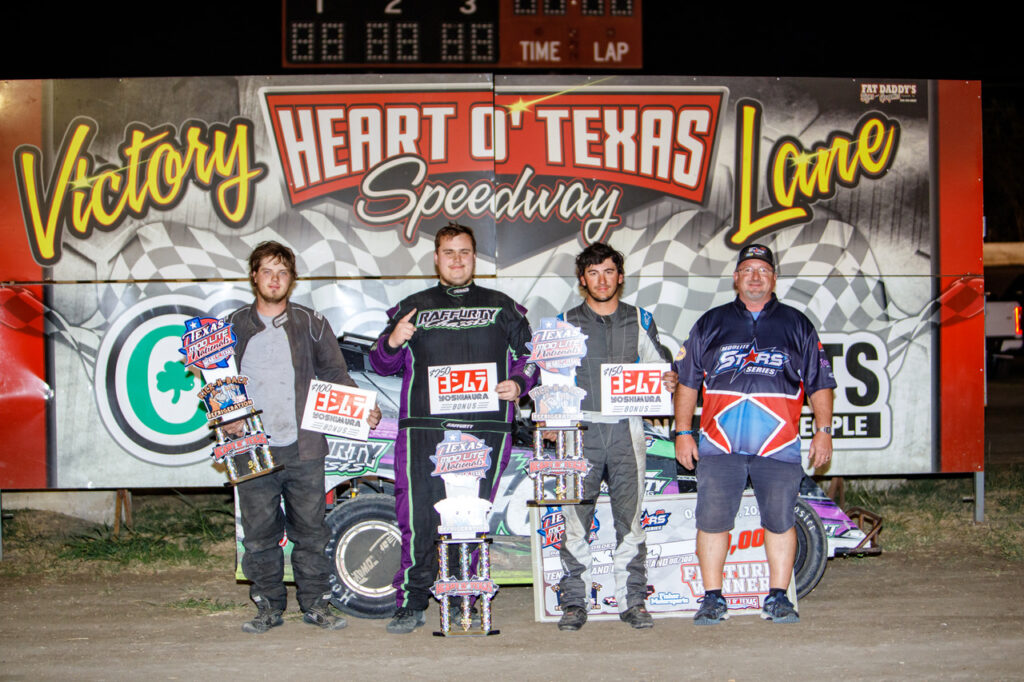 Yoshimura bonus recipients at the Texas Mod Lite Nationals, pictured from left with Division Director Jimmy May, were Austin Gray, third and $100; winner Dillon Raffurty, $250; and runner-up Taylor Hunter, $150. (Photo by Stacy Kolar, Southern Sass Photography)