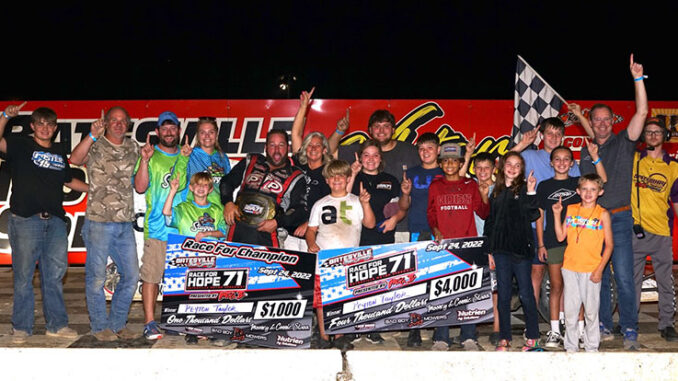 BATESVILLE, Ark. (Sept. 22-24, 2022) – The goal Peyton Taylor set back in January was achieved on the final weekend of the 2022 IMCA Speedway Motors Weekly Racing point season. 
Taylor won two of the weekend's three Race For Hope 71 Friesen Performance IMCA Modified features at hometown Batesville Motor Speedway, earning $11,000 in all, along with Fast Shafts All-Star Invitational qualifying eligibility.
More importantly, however, he became the first home state driver to win the Race For Hope crown.
"It was just a solid weekend," said Taylor, runner-up to brother Jeff in Thursday's opening night show and the winner Friday and Saturday. "Any time you do the points thing it can be stressful but to be the first Arkansas-based team to win this championship is big for our Andrews Autosport team."
Taylor collected $4,000 for each of the wins, $2,000 for Friday's runner-up finish and a $1,000 bonus for the three-night high points finish.
He led every lap but the last one on Thursday, losing the lead on the 30th and final circuit and ending five car lengths behind his brother.
"We were kind of like a sitting duck out there," said Taylor, followed across the stripe by Wendell Wallace, Dallas Everett and Shawn Walsh. "You don't want to get outrun but if it has to happen you want it to be by your brother. He was just better than we were."
Nobody was better the next two nights as Taylor won from 13th starting on Friday and from seventh in the Saturday finale, both times in front of Cody Laney.
Taylor had the lead before midway of Friday's 40-lapper, going to what he called 'the funky line' as the track got slicker.
"We were lucky enough to stay out of the cautions, picked our way through and kind of did to Cody what Jeff did to us on Thursday," he said.
Jayden Schmitt, Brandon Smith and Travis Mosley ran 3-4-5.
Some last-minute setup adjustments made the difference in Saturday's 40-lap feature.
"We knew we were in a points battle and had eight or nine positions to give," Taylor said. "We watched the 'B' main and changed three little things. I think that was the difference between a top three car and winning."
"The track was black and glassy," he added. "You could go anywhere. My car was very maneuverable."
Laney moved up a dozen spots, swapping second back and forth with Jeff Taylor before securing the runner-up position. Wallace started 17th and finished fourth and Schmidt was fifth.