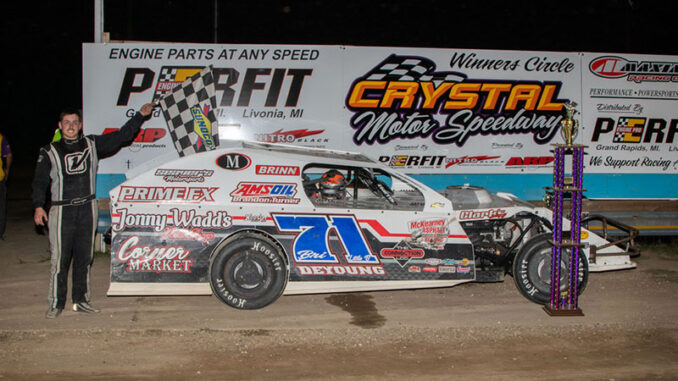 CRYSTAL, Mich. (Sept. 18, 2022) –  The latest addition to Team DeYoung's Great Lakes Nationals trophy collection will have a special place in the display case. 
Brenten DeYoung topped the 50-lap, $3,000 to win special for Friesen Performance IMCA Modifieds Sunday at Crystal Motor Speedway.
The checkers were his career first at one of the premier events for the division in Michigan and in the Dirt Works Eastern Region, and came ahead of his father and seven-time Great Lakes Nationals king Myron.
"It's incredible," the younger DeYoung said following his second feature win of the season at the family's long-time home track. "This is a race I've wanted to win for a long time and I'm grateful to finally pull it off."
Fourth on the initial grid, he moved up to the outside of the front row following a lap one restart, used the outside line to pass pole starter Nathan Patrick going into the first turn and led every time around the track.
Multiple cautions kept the field close throughout before DeYoung was able to pull away and take the win and career best payday by a margin of 2.6 seconds.
"It's not that I didn't want to win, I just couldn't catch him," said his dad, who had the best seat in the house to watch Brenten's drive to the checkers. "I'm glad to see him win a big race. I was smiling from ear to ear for probably the last 15 laps."
A.J. Ward, Nathan Patrick and Aaron Raby completed the top five.
Feature results – 1. Brenten DeYoung; 2. Myron DeYoung; 3. A.J. Ward; 4. Nathan Patrick; 5. Aaron Raby; 6. Blake Edmonds; 7. Kody Johnson; 8. Rusty Zeigler; 9. Casey Smith; 10. Troy Ziegler; 11. Ken Zeigler; 12. Adam Hardy; 13. Brody Bowser; 14. John DeYoung Jr.; 15. Montgomery Johnson; 16. Chad Wernette; 17. Bree Brasington; 18. Zac Gilliland; 19. Austin Wonch; 20. Calvin Stemler; 21. Garrett Bennett; 22. Chance Allen; 23. Jack Dalman.