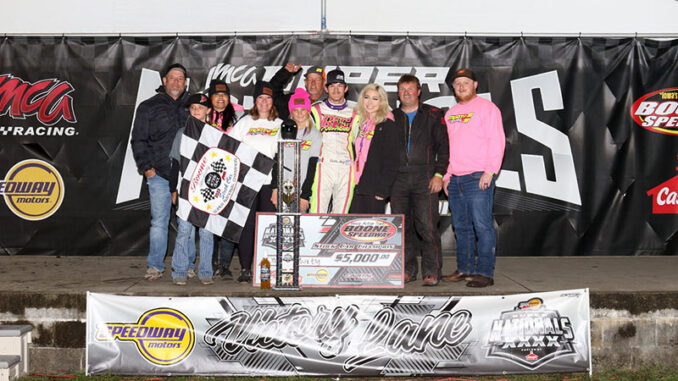 BOONE, Iowa (Sept. 10, 2022) – A race that began as a battle between two of the best young guns in the division became a battle between father and son on championship night at the IMCA Speedway Motors Super Nationals fueled by Casey's.
When both those battles at Boone Speedway were over, Dallon Murty had defended his Stock Car championship, becoming just the second driver in division history to go back-to-back at America's Racin' Vacation.
"This was a really special win. There's a lot of weight lifted off your shoulders when you're the defending champion and can win again," said Murty, 17 years old, from Chelsea and a senior at BGM High School. "Last year's win was probably my best ever because it was my first. This win and last year are at the top of all my wins, by far."
A record 246 Stock Car drivers competed at the 40th annual Super Nationals and the main event saw 30 of the best of them racing for a $7,500 top check.
Murty had become the youngest champion in Super Nationals history last year. He began his title defense Saturday night chasing rookie Kaden Reynolds the first five laps and then taking over at the front after the two made contact coming to the line at the end of lap six.
"I wanted to get to the lead as soon as I could," said Murty. "I felt like if I could get the lead I could set the pace, and getting clean air was big."
Reynolds, already winner of the B & B Racing Chassis All-Star Invitational and Sunoco Race Fuels Race of Champions, swapped the second spot with Murty's father Damon before and after a pair of cautions at midway of the 30-lapper.
Making his record-tying 17th start in the Big Dance and another one of the seven drivers in the main event field with Super Nationals championships on their resumes, Damon Murty headed the pursuit of the leader while 2021 runner-up Dylan Thornton moved into contention.
Damon Murty fell back and Thornton fell out with a flat tire after a three-wide tussle with Kelly Shryock with five laps left.
Shryock drove through unscathed to take over second, with Reynolds, David Smith and Buck Schafroth ultimately finishing third through fifth.
Elijah Zevenbergen, another former champion, was sixth and Damon Murty seventh.
"I thought we were going to go 1-2 there for a while," Dallon said after the long run ahead of his father. "I kept watching the leader board but I didn't know how big my lead was. I just kept running my race."
Eight states were represented in the Big Dance. One of a dozen first-time qualifiers, Collen Winebarger became the first Oregon driver to start the Stock Car main event at Super Nationals.
Donavon Smith made his record 16th consecutive start and David Smith his career 15th Stock Car championship night start.
Stock Cars have been part of the Super Nationals program since the dirt track racing spectacular moved to Boone Speedway 35 years ago. Randy Brands of Boyden was the first Stock Car driver to win championships in consecutive years, in 2003-2004.
Super Nationals was broadcast by IMCA.TV.
Feature results – 1. Dallon Murty, Chelsea; 2. Kelly Shryock, Fertile; 3. Kaden Reynolds, Cedar Rapids; 4. David Smith, Lake City; 5. Buck Schafroth, Orient; 6. Elijah Zevenbergen, Ocheyedan; 7. Damon Murty, Chelsea; 8. Derrick Agee, Huntsville, Mo.; 9. Donavon Smith, Lake City; 10. Casey Woken, Norton, Kan.; 11. Brandon Conkwright, Wamego, Kan.; 12. Devin Smith, Lake City; 13. Troy Jerovetz, Iowa Falls; 14. Robert Waechter Jr., De Pere, Wis.; 15. Jeff Steenbergen, Johnson Creek, Wis.; 16. Heath Tulp, Britt; 17. Todd Reitzler, Grinnell; 18. Trent Murphy, Scranton; 19. Collen Winebarger, Corbett, Ore.; 20. Luke Lemmens, De Pere, Wis.; 21. Troy Swearingen, Thompson; 22. Tobie Talk, Malcom; 23. Troy Burkhart, Hays, Kan.; 24. Austin Meiners, Polk City; 25. Shelby Williams, Bonham, Texas; 26. Dylan Thornton, Santa Maria, Calif.; 27. Nick Roberts, Des Moines; 28. Austin Bouzek, Trenton, Mo.; 29. Chanse Hollatz, Clear Lake; 30. Curt Lund, Redwood Falls, Minn.