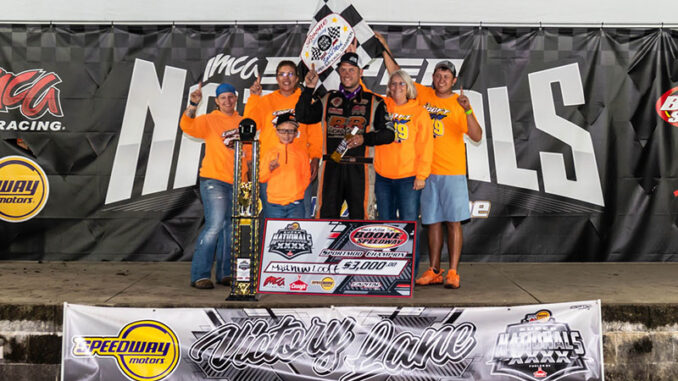 BOONE, Iowa (Sept. 10, 2022) – Matthew Looft brought home his first IMCA Speedway Motors Super Nationals fueled by Casey's championship and the best birthday present an 8-year-old boy could ask for on the same night.
Looft raced from 13th starting and held off familiar weekly foe Colby Fett Saturday in winning the Northern SportMod main event and $5,000 Saturday at Boone Speedway.
"I promised to do my best to give my son Brayden a tall trophy for his eighth birthday," said Looft, from Swea City and IMCA's four-time and defending national champion. "We have gotten a lot of help from a lot of people and have won a lot of races and this was the biggest by far."
"A national championship is pretty cool. At Super Nationals there are 171 other cars and you're racing against the best drivers in the country just to get in the feature," he continued. "All the pressure is on one night. You can have some bad nights when you race during the season but you can't have a bad night at Super Nationals."
Fett, Jarett Franzen and Taylor Kuehl rounded out the top four finishers. Kuehl ran second as late as lap 23 and her finish was the best by a female driver since the division was added to Super Nationals in 2005.
Outside front row starter Fett and Kuehl ran 1-2 through the first 13 of 30 laps. Franzen took over the runner-up spot for two laps before Kuehl regained second and hard-charging Looft motored by for third.
Finding speed on the low side, Looft got past Kuehl with seven laps left and had a half car length advantage over Fett when lap 26 was scored.
The final caution came with three to go.
"I raced with Colby once, twice or three times a week during the season and we race pretty good together. I could see his entrances slowing down a little past halfway and I was pounding around the inside," Looft said. "I just keep trying to hit my marks every lap, got a good start after the last caution and it all worked out."
The trophy he brought home may go on display at different sponsors' before finding a permanent place at home.
"To win on Brayden's birthday was pretty special," said Looft. "We may have to find a bigger desk to put it on."
Logan Anderson raced from 19th starting to complete the top five Saturday night.
Kuehl, also the first female driver to start on the front row in the Northern SportMod main event, was the top finishing driver among the 11 first-time qualifiers.
Tony Olson started a record 10th career Big Dance.
The 40th annual IMCA Speedway Motors Super Nationals fueled by Casey's was broadcast by IMCA.TV.
Feature results – 1. Matthew Looft, Swea City; 2. Colby Fett, Algona; 3. Jarett Franzen, Maquoketa; 4. Taylor Kuehl, Cave Creek, Ariz.; 5. Logan Anderson, Eddyville; 6. Cam Reimers, Kelley; 7. Ryan Gillmore, Springfield, Mo.; 8. Alec Fett, Burt; 9. Austin Schrage, Knoxville; 10. Tony Olson, Cedar Rapids; 11. Brett Berry, Hays, Kan.; 12. Joe Reetz, Dunlap; 13. Ben Chapman, Clarence; 14. Jeff Steenbergen, Johnson Creek, Wis.; 15. Curtis Veber, Polk City; 16. Cole Czarneski, Denmark, Wis.; 17. Brian Schrage, Cresco; 18. Tim Eaton, St. Joseph, Mo.; 19. Braden Richards, Madrid; 20. Arie Schouten, Blair, Neb.; 21. Dakota Girard, Moberly, Mo.; 22. Karl Brewer, Vermillion, S.D.; 23. Josh Appel, Garner; 24. Kyle Olson, Cedar Rapids; 25. Jake Sachau, Manning; 26. Robbie Thome, Spalding, Neb.; 27. Will Garceau, Francis Creek, Wis.; 28. Andrew Pearce, Oakley, Calif.; 29. Dustin Lynch, Boone; 30. Stephen Clancy, Odessa, Mo.