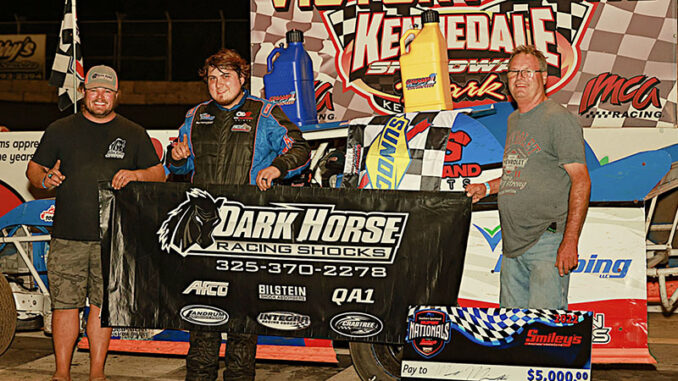 KENNEDALE, Texas (Sept. 10, 2022) – His strategy was simple, once Marcus Mikulencak got to the front of Saturday's Smiley's Racing Products IMCA Southern SportMod Super Nationals feature field.
"I tried to stay smooth and not make any mistakes," Mikulencak said after taking the $5,000 checkers in the inaugural event at Kennedale Speedway Park. "We were pretty good up front but I figured with the competition we had that we could have company up there."
Bradley Poor and Brandon Geurin both advanced seven spots to finish second and third, respectively. Michael Dabney was a plus nine to fourth and Alex Hickham, winner of Friday's All-Star race, ended in fifth.
Mikulencak ran fourth and then won his second qualifying heat on opening night, drawing the inside row two start for the 30-lap main.
"We didn't make any changes in setup from Friday. We were able to get the lead early," he said. "There were a couple cautions and we were able to get through lapped traffic pretty easy."
His career best payday included a $2,000 bonus from IMCA, plus another $1,450 in bonus money for leading 29 laps.
"It's a pretty awesome feeling," said Mikulencak, planning to maybe put the champion's trophy on display at his Corpus Christi transmission shop. "I thought I had a good chance of winning it and can't be more thankful for the opportunity I was given to do it."
Hickham's All-Star race checkers were good for $1,000 and came ahead of Jerrett Bransom and Dabney.
The Southern SportMod Super Nationals brought 71 entries from Texas and Oklahoma to KSP.
Feature results – 1. Marcus Mikulencak, Corpus Christi; 2. Bradley Poor, Abilene; 3. Brandon Geurin, Robinson; 4. Michael Dabney, Kaufman; 5. Alex Hickham, Conroe; 6. Billy Gould Jr., Kingwood; 7. Jerrett Bransom, Burleson; 8. Walter Hamilton, Dallas; 9. Donald Cain, Willis; 10. Paul White, Waco; 11. Chance Morris, Cleburne; 12. John Rabozzi, Midlothian; 13. Trevor Cogburn, Robinson; 14. Clayton Thompson, Fort Worth; 15. Joseph Pontin Jr., Hockley; 16. Chris Florio, Copperas Cove; 17. Sid Kiphen, Gatesville; 18. Aubrey Spears, Denison; 19. Justin Froid, Fort Worth; 20. Nathan Northcott; 21. Jeff Hauser, Alvarado; 22. Danny Patterson, Merkel; 23. Mark Patterson, Merkel; 24. Rowdy Day, Greenville.