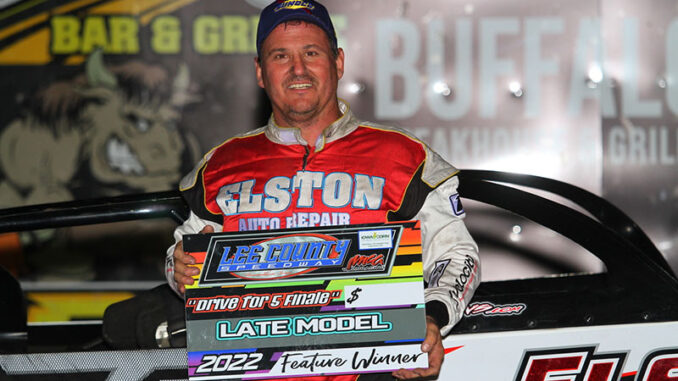 By Brian Neal
DONNELLSON, Iowa (Sept. 10, 2022) – Tommy Elston outran the rain and his IMCA Sunoco Late Model competition in winning Saturday's Drive For 5 finale and $5,000 at Lee County Speedway. 
The Keokuk hotshoe held off Nick Marolf following a restart late in the Iowa Corn Growers Association Photo Daddy 50-lapper. Third was Andy Nezworski.
C.J. Horn jumped out to the lead over Chris Lawrence and Darin Weisinger Jr. Elston, Matt Ryan, Nezworski, Dennis Woodworth and Marolf, who all started in the back half of the front ten, battled their way towards the front.
Elston took over the runner-up spot on lap eight, then went to work on Horn for the lead. Horn continued to work the top of the track following a lap 12 restart while fending off Elston over the next 10 circuits.
The lead duo entered lapped traffic before midway, which allowed Marolf and Nezworski to close in.
Track officials made the decision so halt the race for a fuel stop following a lap 29 caution. On the ensuing restart, Horn went to the bottom of the track, which allowed Elston to power by on the top side to take the lead.
Marolf motored past Horn to move into second two laps later and went to work on Elston for the top spot.
While Elston worked the top of the track and used his momentum off the corners to maintain his lead, Marolf looked for his opportunity lower in the corners.
The battle for the lead was slowed by the final caution on lap 47. Elston outran Marolf to the checkers with Nezworski, Ryan and Woodworth rounding out the top five.
Feature results – 1. Tommy Elston; 2. Nick Marolf; 3. Andy Nezworski; 4. Matt Ryan; 5. Dennis Woodworth; 6. C.J. Horn; 7. Chuck Hanna; 8. Dalton Simonsen; 9. Jay Johnson; 10. Sam Halstead; 11. Jeff Guengerich; 12. Darin Weisinger Jr.; 13. Chris Lawrence; 14. Dustin Schram; 15. Dekota Job; 16. Ray Raker; 17. Ed Hollenbeck; 18. Bryan Klein; 19. Kelly Pestka; 20. Andrew Chelf; 21. Chance Huston; 22. Fred Remley.