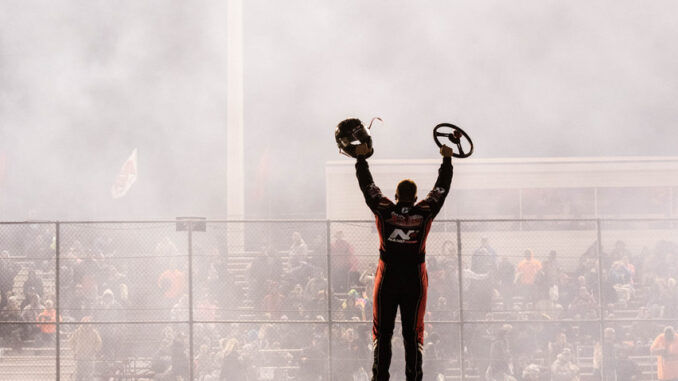 BOONE, Iowa (Sept. 10, 2022) – Tom Berry Jr.'s run to the Modified championship brought the final checkers down on the record-setting week of the IMCA Speedway Motors Super Nationals fueled by Casey's, when 1,000 cars brought 1,000 stars to Boone Speedway. 
Berry, one of the record 1,000 drivers from 28 states and four Canadian provinces competing at the 40th annual event, caught Kollin Hibdon for the lead just before midway of the 40-lapper, then held off the young speedster from Nevada the rest of the way.
"This is unbelievable," Berry said before trophy photos were taken in the NAPA Fan Zone. "I've been coming to Super Nationals for years and finally did it. To win Super Nationals just topped my season. I can't believe it."
The Oregon native had raced in the Pacific Northwest and then out of North Dakota before moving to Iowa. Fast Shafts All-Star Invitational winner Cody Thompson was in and out of the top five before ending in third and Canadian Aaron Turnbull was fourth.
Other Saturday champions were Dallon Murty, just the third driver to win back-to-back Stock Car Super Nationals crowns; Matt Looft in the Northern SportMods; and Zach Olmstead in the Hobby Stocks.
With bonuses from IMCA.TV, Berry earned $10,000, Murty $7,500, Looft $5,000 and Olmstead $3,000.
The 17-year-old Murty dueled with rookie Kaden Reynolds, then with his father Damon before beating another much-accomplished veteran, Kelly Shryock, to the stripe.
"This is awesome," Murty said. "Super Nationals is so prestigious. To go back-to-back is unbelievable."
B & B Racing Chassis All-Star Invitational and Sunoco Race Fuels Race of Champions winner Reynolds ended in third and David Smith was fourth.
Looft added a first Super Nationals championship to his already lengthy list of IMCA accomplishments, racing from 13th starting to catch race-long leader Colby Fett with five laps to go.
Finding speed on the low side, he'd get the win ahead of Fett, Jarett Franzen and Taylor Kuehl. Kuehl's fourth-place run was the best by a female driver in that division since Northern SportMods were added to the Super Nationals program in 2005.
"I don't know what to say," admitted Looft, who had promised to do his best to get son Brayden a tall trophy on his eighth birthday. "We have worked so hard for this. It's still unreal."
Winner of the Stephenville Starter Race of Champions earlier in the week, Olmstead was in the right place at the right time in the Hobby Stock main.
The Nebraska pilot was running behind the lap 22 multi-car incident that left race-long leader Brandon Nielsen on his side on the front stretch and claimed defending champion Mike Smith as well.
"It was a long race and I felt like we'd gone backwards the first 20 laps," said Olmstead, who inherited the lead on the restart and ran ahead of Justin Frederick, Dylan Nelson and Michael Kimm to the finish. "But the car started to get better and you could say I was in the right place at the right time."
Dillon Raffurty repeated as champion of the STARS Mod Lites in their Sunday show while Cory Dumpert became the first Nebraska driver to win the Labor Day Late Model event. Jake Benischek topped the Sport Compact main and Jake Sachau was the BSB Manufacturing Northern SportMod Race of Champions winner on Tuesday.
Jerry Flippo won the Friday Harris Auto Racing Race of Champions for Modifieds.
Saturday's championship program was postponed to what became a 6:40 p.m. start after an inch of rain fell overnight and into the day on Saturday.
Last-chance heats for the Modifieds had been added at the end of the Friday program, with the jet dryer preceding Hobby Stocks, Stock Cars and Modifieds on the track for their last-chance features.
The more than $300,000 paid to Super Nationals competitors this year included $20,950 generated by the Saturday night engine auction. Approximately $60,000 in contingency and cash awards were given as well.
The previous car count record at Super Nationals was 909, set last September.
The Sept. 3-4 Prelude and Sept. 5-10 Super Nationals were broadcast by IMCA.TV.
Feature Results
Modifieds – 1. Tom Berry Jr., Altoona; 2. Kollin Hibdon, Pahrump, Nev.; 3. Cody Thompson, Sioux City; 4. Aaron Turnbull, Estevan, Sask.; 5. Jeff Aikey, Cedar Falls; 6. Jared Siefert, Luxemburg, Wis.; 7. Jimmy Gustin, Marshalltown; 8. Zane DeVilbiss, Farmington, N.M.; 9. Todd Stinehart, Waseca, Minn.; 10. Jacob Hobscheidt, Plattsmouth, Neb.; 11. Drew Janssen, Pella; 12. Ethan Braaksma, Newton; 13. Tanner Black, Otis, Kan.; 14. Bricen James, Albany, Ore.; 15. Cody Laney, Torrance, Calif.; 16. Ryan McDaniel, Olivehurst, Calif.; 17. Steven Bowers Jr., Topeka, Kan.; 18. Brandon Beckendorf, Danube, Minn.; 19. Grey Ferrando, Stayton, Ore.; 20. Ashton Wilkey, Batesville, Ark.; 21. Brandon Schmitt, Beaver Dam, Wis.; 22. Jordy Nelson, Marysville, Kan.; 23. Jake Pike, Pahrump, Nev.; 24. Kelly Shryock, Fertile; 25. Todd Shute, Norwalk; 26. Cory Sauerman, Johnston; 27. Ricky Alvarado, Delta, Colo.; 28. Justin O'Brien, West Union; 29. Johnathon Logue, Logansport; 30. Bob Moore, Sioux City; 31. Aaron Johnson, Brainerd, Minn.; 32. Dylan Thornton, Santa Maria, Calif.; 33. Jeff Larson, Freeport, Ill.
Stock Cars – 1. Dallon Murty, Chelsea; 2. Kelly Shryock, Fertile; 3. Kaden Reynolds, Cedar Rapids; 4. David Smith, Lake City; 5. Buck Schafroth, Orient; 6. Elijah Zevenbergen, Ocheyedan; 7. Damon Murty, Chelsea; 8. Derrick Agee, Huntsville, Mo.; 9. Donavon Smith, Lake City; 10. Casey Woken, Norton, Kan.; 11. Brandon Conkwright, Wamego, Kan.; 12. Devin Smith, Lake City; 13. Troy Jerovetz, Iowa Falls; 14. Robert Waechter Jr., De Pere, Wis.; 15. Jeff Steenbergen, Johnson Creek, Wis.; 16. Heath Tulp, Britt; 17. Todd Reitzler, Grinnell; 18. Trent Murphy, Scranton; 19. Collen Winebarger, Corbett, Ore.; 20. Luke Lemmens, De Pere, Wis.; 21. Troy Swearingen, Thompson; 22. Tobie Talk, Malcom; 23. Troy Burkhart, Hays, Kan.; 24. Austin Meiners, Polk City; 25. Shelby Williams, Bonham, Texas; 26. Dylan Thornton, Santa Maria, Calif.; 27. Nick Roberts, Des Moines; 28. Austin Bouzek, Trenton, Mo.; 29. Chanse Hollatz, Clear Lake; 30. Curt Lund, Redwood Falls, Minn.
Northern SportMods – 1. Matthew Looft, Swea City; 2. Colby Fett, Algona; 3. Jarett Franzen, Maquoketa; 4. Taylor Kuehl, Cave Creek, Ariz.; 5. Logan Anderson, Eddyville; 6. Cam Reimers, Kelley; 7. Ryan Gillmore, Springfield, Mo.; 8. Alec Fett, Burt; 9. Austin Schrage, Knoxville; 10. Tony Olson, Cedar Rapids; 11. Brett Berry, Hays, Kan.; 12. Joe Reetz, Dunlap; 13. Ben Chapman, Clarence; 14. Jeff Steenbergen, Johnson Creek, Wis.; 15. Curtis Veber, Polk City; 16. Cole Czarneski, Denmark, Wis.; 17. Brian Schrage, Cresco; 18. Tim Eaton, St. Joseph, Mo.; 19. Braden Richards, Madrid; 20. Arie Schouten, Blair, Neb.; 21. Dakota Girard, Moberly, Mo.; 22. Karl Brewer, Vermillion, S.D.; 23. Josh Appel, Garner; 24. Kyle Olson, Cedar Rapids; 25. Jake Sachau, Manning; 26. Robbie Thome, Spalding, Neb.; 27. Will Garceau, Francis Creek, Wis.; 28. Andrew Pearce, Oakley, Calif.; 29. Dustin Lynch, Boone; 30. Stephen Clancy, Odessa, Mo.
Hobby Stocks – 1. Zach Olmstead, Overton, Neb.; 2. Justin Frederick, Cleghorn; 3. Dylan Nelson, Adel; 4. Michael Kimm, Vinton; 5. Josh Sidles, Emmetsburg; 6. Solomon Bennett, Minburn; 7. John Watson, Des Moines; 8. Eric Stanton, Carlisle; 9. Adam Hensel, Atlantic; 10. Tristan Grape, Columbus, Neb.; 11. Colby Christensen, Audubon; 12. Matt McDonald, Scranton; 13. Brett Vanous, Quasqueton; 14. Malik Sampson, Worthington, Minn.; 15. Parker Anderson, Welcome, Minn.; 16. Gavin Bussinger, Granada, Minn.; 17. Kyle Parizek, Hartwick; 18. James Johnson, Cherokee; 19. Jim Ball Jr., Independence; 20. Skylar Pruitt, Stuart; 21. Jacob Robinson, Minot, N.D.; 22. Calvin Dhondt, Kellogg; 23. Brandon Nielsen, Spencer; 24. Mike Smith, Lake City; 25. Aaron Martin, Sigourney; 26. Brandon Cox, Norwalk; 27. Tanner Clough, Wallace, Neb.; 28. Les Lundquist, Sioux City; 29. Riley Christensen, Audubon; 30. Seth Janssen, Ogden.