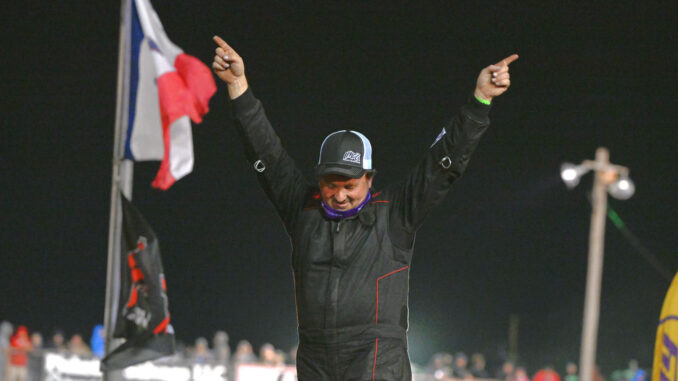 BOONE, Iowa (Sept. 9, 2022) – The numbers of laps Damon Murty and Dylan Thornton led differed almost as much as possible but both were winners of Friday night IMCA Speedway Motors Super Nationals fueled by Casey's Stock Car qualifying features.
2018 Super Nationals champion Murty passed race-long leader Shelby Williams after two late cautions in the first qualifier at Boone Speedway. Thornton, already set to start the Modified main event from the pole, led the distance in the caution-free 25-lap nightcap.
Top four finishers in each feature advance to the outside row of the championship show. Murty's son Dallon, the defending Super Nationals king, and Kaden Reynolds have already locked in front row starts.
Williams and Murty ran 1-2 the first 24-1/2 laps with Austin Brauner in third much of that distance. The Platte Center, Neb., pilot exited after bringing out the first of those two late yellows with hard-charging Kelly Shryock moving up and into his spot for the restart.
Murty finally saw his opportunity, passing Williams on the backstretch on the final lap. Shryock also got by to complete his run to second from 26th starting. Nick Roberts ran fourth.
"He (Williams) ran a great race. I knew I had to be patient and run the bottom," said Murty, who will equal the division record with his 17th career main event start. "We've had a heck of a career out of this deal. Once I get to 300 (weekly career wins) I might step back and help Dallon."
Last year's runner-up Thornton likened his car to a rocket ship after rocketing to the checkers in the second qualifier.
Twelfth starting Chanse Hollatz and Austin Meiners were second and third, respectively. Troy Swearingen beat a host of contenders for the final transfer position.
Shryock became a third-time qualifier and Thornton and Hollatz both two-time qualifiers. Williams, Roberts, Meiners and Swearingen will each start their career first Stock Car Big Dance.
IMCA.TV broadcasts the week of the 40th annual IMCA Speedway Motors Super Nationals fueled by Casey's.
1st qualifier – 1. Damon Murty, Chelsea; 2. Kelly Shryock, Fertile; 3. Shelby Williams, Bonham, Texas; 4. Nick Roberts, Des Moines; 5. Austin Bouzek, Trenton, Mo.; 6. Brandon Conkwright, Wamego, Kan.; 7. Jeff Ware, Columbus, Neb.; 8. Rod Richards, Madrid; 9. Todd Reitzler, Grinnell; 10. Jeff Steenbergen, Johnson Creek, Wis.; 11. Kevin Opheim, Mason City; 12. Jordan Zillmer, Cleveland, N.D.; 13. Brandon Gritz, Enid, Okla.; 14. Travis Barker, Sioux City; 15. Jacob Ellithorpe, Maquoketa; 16. Trent Nolan, Shawano, Wis.; 17. Wayne Landheer, Thompson; 18. Timothy Warner, Malone, Wis.; 19. Jake McBirnie, Boone; 20. Austin Brauner, Platte Center, Neb.; 21. Anthony Goldsberry, Runnells; 22. Riley Simmons, Susanville, Calif.; 23. Dustin Larson, Rushmore, Minn.; 24. Clint Forstner, Shiocton, Wis.; 25. Josh Foster, Fairfax; 26. Scott Davis, Madrid; 27. Andrew Jochim, Harwood, N.D.; 28. Mike Mullen, Seymour, Wis.; 29. John Oliver Jr., West Burlington; 30. Timothy DeGroft Jr., Elwell, Mich.
2nd qualifier – 1. Dylan Thornton, Santa Maria, Calif.; 2. Chanse Hollatz, Clear Lake; 3. Austin Meiners, Polk City; 4. Troy Swearingen, Thompson; 5. Benji LaCrosse, Casco, Wis.; 6. Kyle Clough, Wallace, Neb.; 7. Aaron Spangler, Dove Creek, Colo.; 8. Leah Wroten, Independence; 9. Garrett Corn, Merced, Calif.; 10. Justin Luinenburg, Reading, Minn.; 11. Jason Rogers, Selden, Kan.; 12. Tathan Burkhart, Hays, Kan.; 13. Curt Lund, Redwood Falls, Minn.; 14. Zane DeVilbiss, Farmington, N.M.; 15. Tim Gonska, Brainerd, Minn.; 16. Kyle Everts, Holland; 17. Josh Daniels, Carlisle; 18. Brandon McElroy, Fort Worth, Texas; 19. Jeffrey Larson, Reading, Minn.; 20. Mike Petersilie, Hoisington, Kan.; 21. Kole Nordquist, Beresford, S.D.; 22. Blake Clark, Joshua, Texas; 23. Derek Green, Granada, Minn.; 24. Jacob Dahle, Morristown, Minn.; 25. Justin Nehring, Storm Lake; 26. Mitchell Evens, Dubuque; 27. Ricky Bobby Crouch, St. Joseph, Mo.; 28. Tanner Pettitt, Norfolk, Neb.; 29. Dennis Bissonnette, Stephenville, Texas; 30. Abe Huls, Carthage, Ill.