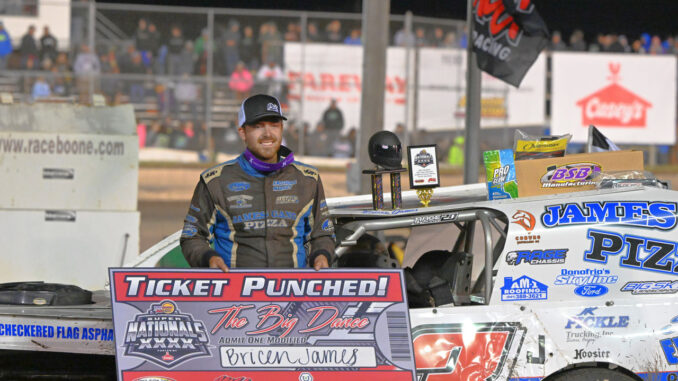 BOONE, Iowa (Sept. 9, 2022) – Race fans in the Pacific Northwest celebrated late into the night, after Friday checkers flew for Modified qualifying features at the 40th annual IMCA Speedway Motors Super Nationals fueled by Casey's.
Oregon driver Bricen James won the first qualifier and Oregon native Tom Berry Jr. paced the nightcap at Boone Speedway, leading the top four finishers in both races to the outside row of the championship event.
James had to work his way up from ninth starting, catching Todd Shute for the lead in a green, white checkered finish. Berry also had to pass a former Super Nationals champion to get to the front and brought Jeff Aikey along to the checkers.
Drew Janssen led the first 11 circuits of the opening qualifier before giving way to Shute.
The 2007 Super Nationals champion, still battling front end issues that had forced him off the track early in the Fast Shafts All-Star Invitational show, somehow kept the handle to lead the next 13 laps before James got by.
"I'm excited," James said after clinching his first berth in the Big Dance. "This is what we're here for. We're in it to win it."
Janssen was third and 12th starting Tanner Black was fourth
Aikey, who counts the 2018 Modified crown among his Super Nationals record seven championships, led Berry, Steven Bowers and Brandon Schmitt into lapped traffic just after midway in the second 25-lap qualifier.
Berry inched closer to the leader and finally got by with seven to go. Aikey, Bowers and first-time Super Nationals competitor Schmitt finished in that order behind him.
"We've been fighting all week. We'll see if we can put on a show Saturday," Berry said. "The car was phenomenal. It's been pretty good all year so we won't change too much."
Janssen joined James and Schmitt as a first-time main event qualifier. Black is in for the third time, Aikey, Berry and Bowers each for the fourth while Shute will make his career 13th championship show start.
IMCA.TV broadcasts every lap of the 40th annual IMCA Speedway Motors Super Nationals fueled by Casey's.
1st qualifier – 1. Bricen James, Albany, Ore.; 2. Todd Shute, Norwalk; 3. Drew Janssen, Pella; 4. Tanner Black, Otis, Kan.; 5. Nick Roberts, Des Moines; 6. J.D. Auringer, Waterloo; 7. Josh McGaha, Abilene, Texas; 8. Ricky Alvarado, Delta, Colo.; 9. Nathan Stewart, Bryant, Ark.; 10. Cory Wray, Trenton, Mo.; 11. Johnny Saathoff, Beatrice, Neb.; 12. Russ Dickerson, Boone; 13. Ryan McDaniel, Olivehurst, Calif.; 14. Chris Palsrok, Sibley; 15. Jerry Flippo, Bakersfield, Calif.; 16. Pail Nagle, Nevada; 17. Grey Ferrando, Stayton, Ore.; 18. Chad Melton, Mineral Wells, Texas; 19. Robby Sawyer, Bakersfield, Calif.; 20. Paul Stone, Winton, Calif.; 21. T.J. Wyman, Klemme; 22. Brody Bowser, Stanton, Mich.; 23. Kaid Calhoon, Beloit, Kan.; 24. Jesse Skalicky, Fargo, N.D.; 25. Dan Roedl, Beaver Dam, Wis.; 26. Mike Mullen, Seymour, Wis.; 27. Mitchell Hunt, Kent City, Mich.; 28. Jacob Dahle, Morristown, Minn.; 29. Doug Smith, Lake City, Iowa; 30. Tony Wedelstadt, Combined Locks, Wis.
2nd qualifier – 1. Tom Berry Jr., Des Moines; 2. Jeff Aikey, Cedar Falls; 3. Steven Bowers Jr., Topeka, Kan.; 4. Brandon Schmitt, Beaver Dam, Wis.; 5. Nick Meyer, Whittemore; 6. Troy Morris III, Bakersfield, Calif.; 7. Jeremy Mills, Clear Lake; 8. Jaxon Saathoff, Beatrice, Neb.; 9. Regan Tafoya, Farmington, N.M.; 10. Jake McBirnie, Boone; 11. Jeff Larson, Freeport, Ill.; 12. Riley Simmons, Susanville, Calif.; 13. Chad Porter, Madison Lake, Minn.; 14. Kenny Kostenbader, Freeport, Ill.; 15. Collen Winebarger, Corbett, Ore.; 16. Ryan Roath, Peoria, Ariz.; 17. Jordy Nelson Marysville, Kan.; 18. Jason Ingalls, Longview, Texas; 19. Shane DeMey, Denison; 20. Richard Michael Jr., Ischua, N.Y.; 21. Jim Cole, Sioux City; 22. Mike Van Genderen, Newton; 23. Jeff Stephens, Arion; 24. Maguire DeJong, Montezuma; 25. Dave Pedersen, North Platte, Neb.; 26. Andy Tiernan, Madrid; 27. Larry Adams, Van Alstyne, Texas; 28. Spencer Hartwick, Quitman, Ark.; 29. Chris Abelson, Sioux City; 30. Lucas Lamberies, Clintonville, Wis.