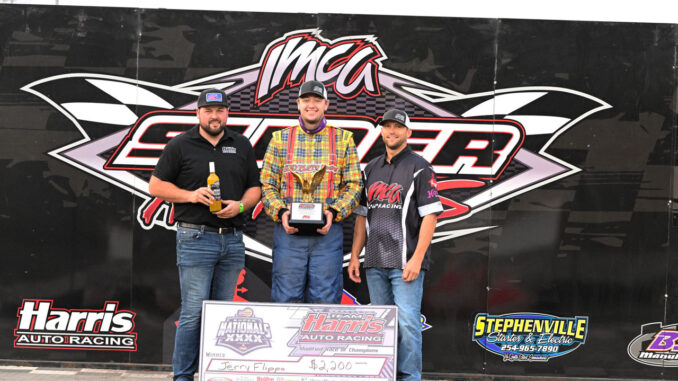 BOONE, Iowa (Sept. 9, 2022) – The recent success enjoyed by California drivers at the IMCA Speedway Motors Super Nationals fueled by Casey's continued Friday night courtesy of Jerry Flippo.
His Harris Auto Racing Modified Race of Champions foes at the 40th annual event could find no remedy to catch up with the driver of the VIP Medical Concierge ride, who left the pack behind him following an early restart and then again after back-to-back yellows just before halfway of the 12-lapper.
The first California driver to win the Harris Auto Racing RoC in the event's long history took home a $1,000 share of the purse and another $1,200 in lap money.
"This is the best we've been so far this week," said Flippo, who'd ended 10th in last year's event. "We've thrown some ideas at this car to see what happened."
Defending race winner Todd Shute took over second three laps in. Cody Laney, also from California and the defending Super Nationals champion, and rookie Austen Becerra were next while another West Coast runner, Bricen James, was fifth.
Eighth finishing Eddie Sites became the first driver from Pennsylvania to qualify for the Harris RoC.
All five regions for Friesen Performance IMCA Modifieds were represented in the starting field.
IMCA.TV broadcasts the week of Super Nationals.
Feature results – 1. Jerry Flippo, Bakersfield, Calif.; 2. Todd Shute, Norwalk; 3. Cody Laney, Torrance, Calif.; 4. Austen Becerra, Carthage, Ill.; 5. Bricen James, Albany, Ore.; 6. Matthew Day, Farmersville, Texas; 7. Randy Havlik, Ankeny; 8. Eddie Sites, Towanda, Pa.; 9. Mitchell Hunt, Kent City, Mich.; 10. Jim Cole, Sioux City; 11. Jared Siefert, Luxemburg, Wis.; 12. Jeff Aikey, Cedar Falls.