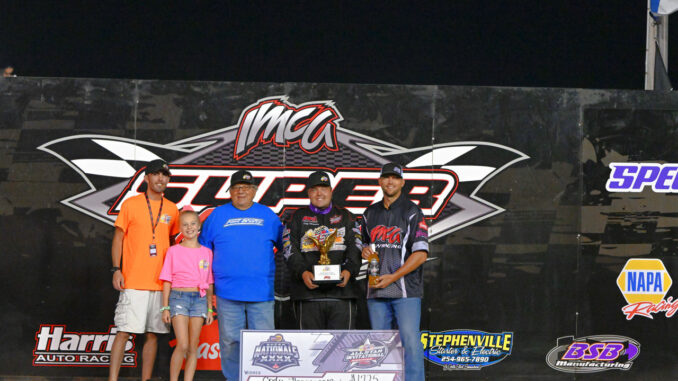 BOONE, Iowa (Sept. 9, 2022) – Gifted the pole start when his Fast Shafts All-Star Invitational competition drew every spoon except the one with the one written on it, Thompson led every lap but the first one in winning the special Modified race Friday night during the IMCA Speedway Motors Super Nationals fueled by Casey's at Boone Speedway. 
"I couldn't believe that the one (spoon) was the only one left. That was probably the only way I was going to get it," said Thompson, never seriously challenged once in front. "The All-Star race is a race that every driver in the division wants to win and it's a real credit to our team that we were able to do it."
The race ran caution-free all 30 laps and was completed in just over nine minutes. Thompson's checkers were good for $1,000 plus another $725 in lap money.
2019 race winner Joel Rust was scored first on the opening circuit then ran second the rest of the way.
Zane DeVilbiss, Jeff Aikey and Jake McBirnie completed the top five as drivers from 13 states competed in the 19th annual event.
"It's pretty cool to be able to put everything together like this," said Thompson, also the winner of a Wednesday qualifying feature and set to start second on the inside row of Saturday night's main event. "My car is dialed in and my mental state is where it needs to be."
"This sport is so humbling," he continued. "We were very good at the start of the year. We fell off with that a little bit mid-summer but hopefully we've got it back."
Seventy drivers, 2021 state champions or winners of IMCA sanctioned events paying $1,000 or more held since last September time trialed for starting spots in the All-Star race.
The 40th annual IMCA Speedway Motors Super Nationals fueled by Casey's is broadcast by IMCA.TV.
Feature results – 1. Cody Thompson, Sioux City; 2. Joel Rust, Grundy Center; 3. Zane DeVilbiss, Farmington, N.M.; 4. Jeff Aikey, Cedar Falls; 5. Jake McBirnie, Boone; 6. Mitchell Hunt, Kent City, Mich.; 7. Austen Becerra, Carthage, Ill.; 8. Troy Morris III, Bakersfield, Calif.; 9. Jerry Flippo, Bakersfield, Calif.; 10. Dallon Murty, Chelsea; 11. Tim Ward, Harcourt; 12. Aaron Johnson, Brainerd, Minn.; 13. Dakota Sproul, Hays, Kan.; 14. Jacob Hobscheidt, Plattsmouth, Neb.; 15. Dylan Thornton, Santa Maria, Calif.; 16. Kelly Shryock, Fertile; 17. Dalton Houghton, Rosamond, Calif.; 18. Brody Bowser, Stanton, Mich.; 19. Matthew Day, Farmersville, Texas; 20. Cory Davis, Seminole, Texas; 21. Chris Mills, Sioux City; 22. Kelsie Foley, Tucson, Ariz.; 23. William Gould, Calera, Okla.; 24. Trent Loverude, New Ulm, Minn.; 25. Jordy Nelson, Marysville, Kan.; 26. Todd Shute, Norwalk; 27. Kollin Hibdon, Pahrump, Nev.; 28. Ryan McDaniel, Olivehurst, Calif.; 29. Tom Berry Jr., Des Moines; 30. Lucas Lamberies, Clintonville, Wis.