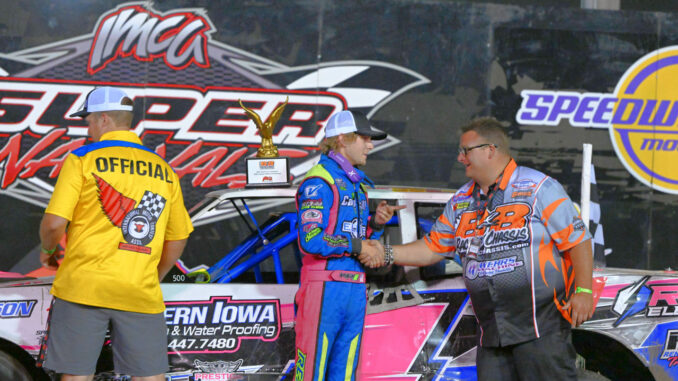 BOONE, Iowa (Sept. 8, 2022) – A young IMCA Sunoco Stock Car star shined brightest in the second annual B & B Racing Chassis All-Star Invitational.
Rookie Kaden Reynolds held off defending race winner Kelly Shryock in the fast-paced, caution-free 30-lapper, the headline race of the IMCA Speedway Motors Super Nationals fueled by Casey's Thursday night show at Boone Speedway.
"It doesn't get much better than this," said Reynolds, who made his charge to the front from seventh starting and led the last 16 circuits, outrunning a field of established veterans and fellow up-and-comers in The Class Too Tough To Tame. "Beating Kelly is pretty good. Beating all these guys is pretty good."
The $1,000 checkers were complemented by $400 in lap money and a chassis courtesy of race title sponsor B & B.
Shryock was close behind at the finish and quick to congratulate Reynolds post-race. Justin Luinenburg, pole starter Kyle Vanover and Mike Mullen completed the top five.
Vanover looked strong at the onset with Reynolds knocking on the door of the second-running Mullen by lap nine.
Reynolds and Shryock had both passed Mullen by lap 12 and both caught Vanover on lap 15.
It was a two-car battle from that point and Shryock, who collected the first of his 600-plus career feature wins some 16 years before Reynolds was born, made the leader work for the win.
"I knew he was there coming to the white flag," said the recently turned 21 Reynolds, IMCA's Junior National Champion in 2020 and the IMCA Sunoco Hobby Stock national champ last year. "I knew I'd have to play defense that last lap."
"Winning this is cool," he continued. "Now I want to make the Big Dance."
And Reynolds did just that, topping the first of two qualifying features later in the program.
Drivers who'd won IMCA sanctioned Stock Car events paying $5,000 or more held since last year's invitational received automatic starting berths. Two rounds of time trials for 2021 state champions and drivers who had won events paying $750 or more then filled the 30-car B & B Racing Chassis field.
Reynolds had become All-Star eligible with his first "big win" in the division, the King of the Katwalks at Boone in late June.
The 40th annual IMCA Speedway Motors Super Nationals fueled by Casey's is broadcast by IMCA.TV.
Feature results – 1. Kaden Reynolds, Cedar Rapids; 2. Kelly Shryock, Fertile; 3. Justin Luinenburg, Reading, Minn.; 4. Kyle Vanover, Beatrice, Neb.; 5. Mike Mullen, Seymour, Wis.; 6. Elijah Zevenbergen, Ocheyedan; 7. Nathan Ballard, Marengo; 8. Jeffrey Abbey, Comanche, Texas; 9. Dan Mackenthun, Hamburg, Minn.; 10. Shelby Williams, Bonham, Texas; 11. Heath Tulp, Britt; 12. Collen Winebarger, Corbett, Ore.; 13. Benji Legg, Beatrice, Neb.; 14. Chanse Hollatz, Clear Lake; 15. Dylan Thornton, Santa Maria, Calif.; 16. Damon Murty, Chelsea; 17. Taylor Kuehl, Cave Creek, Ariz.; 18. Jim Horejsi, Marshall, Minn.; 19. Todd Decker, Edmond, Okla.; 20. Mike Petersilie, Hoisington, Kan.; 21. Jeffrey Larson, Reading, Minn.; 22. Randy Weaver, Little Rock, Ark.; 23. William Gould, Calera, Okla.; 24. Benji LaCrosse, Casco, Wis.; 25. Dallon Murty, Chelsea; 26. Zane DeVilbiss, Farmington, N.M.; 27. Jason Rogers, Selden, Kan.; 28. Michael Jaennette, Kellogg; 29. Derek Green, Granada, Minn.; 30. Tom Berry Jr., Des Moines.