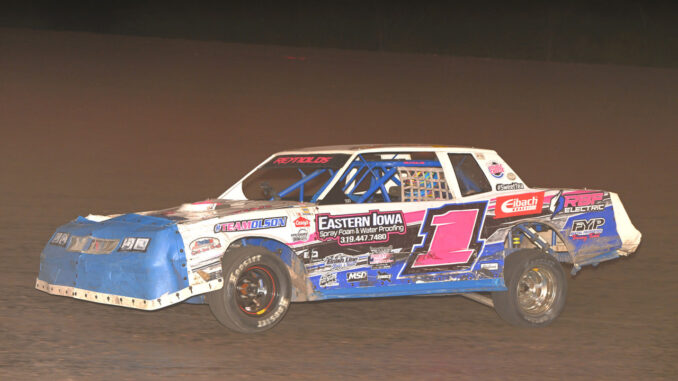 BOONE, Iowa (Sept. 8, 2022) – Kaden Reynolds put himself in position to win his first IMCA Speedway Motors Super Nationals fueled by Casey's championship.
Then Elijah Zevenbergen put himself in position to win his second.
The rookie Reynolds took the momentum from winning the B & B Racing Chassis All-Star Invitational back on the Boone Speedway oval Thursday night, winning the first Stock Car qualifying feature of the evening in front of Devin Smith, Casey Woken and David Smith.
Zevenbergen hauled the mail from fourth, catching Tanner Pettitt for the point on lap eight. Following two late cautions the 2016 Super Nationals champ collected the checkers ahead of Derrick Agee, Trent Murphy and Tobie Talk.
The top four finishers from each feature advance to the middle row of Saturday's main event; 234 record-setting Stock Cars ran in heat races Thursday.
Curt Lund drew the pole start and paced the first 13 laps of the first qualifier. Reynolds had raced his way to third by lap nine and to second on lap 12, then passed Lund on what proved to be the last restart of the night.
"We started deep in the field in this one and were doing some beating and banging," he said. "I moved up a lane or two and it all worked out."
Pettitt and Talk had the fast rides before Zevenbergen zipped by. Agee moved into second on the 14th circuit and Murphy into third on the 20th.
"The car was set up great," Zevenbergen said. "We have had success here in the past and it's always cool to win with this level of talent."
Agee and Talk are also first-time qualifiers for the Stock Car dance. Woken is in for the second time and Zevenbergen the fourth.
Devin Smith races for a third Super Nationals title in his seventh start. Murphy is back for the ninth time while David Smith became a 15-time qualifier.
The front eight cars on the outside row of the main event qualify on Friday.
MCA.TV broadcasts the entire week of the 40th annual IMCA Speedway Motors Super Nationals fueled by Casey's.
1st qualifier – 1. Kaden Reynolds, Cedar Rapids; 2. Devin Smith, Lake City; 3. Casey Woken, Norton, Kan.; 4. David Smith, Lake City; 5. Curt Lund, Redwood Falls, Minn.; 6. Kersey Ferrando, Stayton, Ore.; 7. Kyle Frederick, Oconto Falls, Wis.; 8. Rod Richards, Madrid; 9. Johnathon Logue, Logansport; 10. Heath Tulp, Britt; 11. Todd Decker, Edmond, Okla.; 12. Mike Vandermark Jr., Cedar Spring, Mich.; 13. Eric Cross, Salina, Kan.; 14. Mitch Meier, Chilton, Wis.; 15. Dusty Van Horn, Atlantic; 16. Josh Foster, Fairfax; 17. Derek Brown, Stoutland, Mo.; 18. Brandon Gritz, Enid, Okla.; 19. Trace Ayers, Brookville, Kan.; 20. Mike Petersilie, Hoisington, Kan.; 21. Gage Noyes, Sibley; 22. Michael Jaennette, Kellogg; 23. Tyler Nelsen, Lohrville; 24. Lance Mari, El Centro, Calif.; 25. Chris Toot, Albert Lea, Minn.; 26. Brandon Conkwright, Wamego, Kan.; 27. Andrew Burg, Maricopa, Ariz.; 28. Brady Wenzlaff, Yankton, S.D.; 29. Jeff Whiting, Gothenbrug, Neb.; 30. Chanse Hollatz, Clear Lake.
2nd qualifier – 1. Elijah Zevenbergen, Ocheyedan; 2. Derrick Agee, Huntsville, Mo.; 3. Trent Murphy, Scranton; 4. Tobie Talk, Malcom; 5. Tejay Mielke, Norfolk, Neb.; 6. Josh Most, Red Oak; 7. Kyle Vanover, Beatrice, Neb.; 8. Jeremy Mills, Clear Lake; 9. Tyler Pickett, Boone; 10. Jake McBirnie, Boone; 11. Abe Huls, Carthage, Ill.; 12. Austin Kaplan, Collins; 13. Austin Bouzek, Trenton, Mo.; 14. Austin Gray, Story City; 15. Damon Murty, Chelsea; 16. Jay Schmidt, Tama; 17. Andrew Claus, Spencer; 18. Eric Mahlik, Green Bay, Wis.; 19. Cole Czarneski, Denmark, Wis.; 20. Michael Smith, Marshalltown; 21. Mike Coel, Pulaski, Wis.; 22. Cody Williams, Minneapolis, Kan.; 23. Tanner Pettitt, Norfolk, Neb.; 24. Dylan Thornton, Santa Maria, Calif.; 25. Tim Eaton, St. Joseph, Mo.; 26. Tyler Wilson, Little Suamico, Wis.; 27. John Adams, Denmark, Wis.; 28. Benji Legg, Beatrice, Neb.; 29. Derek Moede, New Franken, Wis.; 30. Kyle Clough, Wallace, Neb.