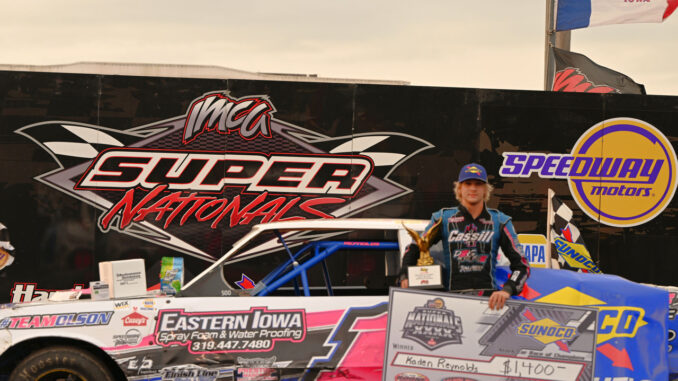 BOONE, Iowa (Sept. 9, 2022) – The question directed to Kaden Reynolds in victory lane, clearly in jest, was whether or not he'd already done enough during this week of the 40th annual IMCA Speedway Motors Super Nationals fueled by Casey's.
"Not yet. Not ever," was the answer he'd already delivered on the track and then repeated in the infield Friday night at Boone Speedway.
The first-year Stock Car driver simply drove away from the rest of the Sunoco Race Fuels Race of Champions field, leading start to finish and beating runner-up and 2016 RoC winner Dustin Larson to the checkers by just over four seconds in a caution-free 12-lapper.
"What a 180 from the beginning of the week," said Reynolds, who nearly tripled a guaranteed $500 payday with another $900 earned in lap money. "I started with a DQ and now we've won our last four races."
Heat, B & B All-Star Invitational and qualifying feature victory preceded his Sunoco ROC win.
"It's been a crazy week," said Reynolds.
Two-time defending race winner Kelly Shryock was third. 2011 race winner Damon Murty and Dallon Murty completed the top five.
Feature results – 1. Kayden Reynolds, Cedar Rapids; 2. Dustin Larson, Rushmore, Minn.; 3. Kelly Shryock, Fertile; 4. Damon Murty, Chelsea; 5. Dallon Murty, Chelsea; 6. Brandon Conkwright, Wameho, Kan.; 7. Luke Lemmens, De Pere, Wis.; 8. Jeffrey Larson, Reading, Minn.; 9. Tathan Burkhart, Hays, Kan.; 10. Jeffrey Abbey, Comanche, Texas; 11. Donavon Smith, Lake City; 12. Aaron Spangler, Dove Creek, Colo.