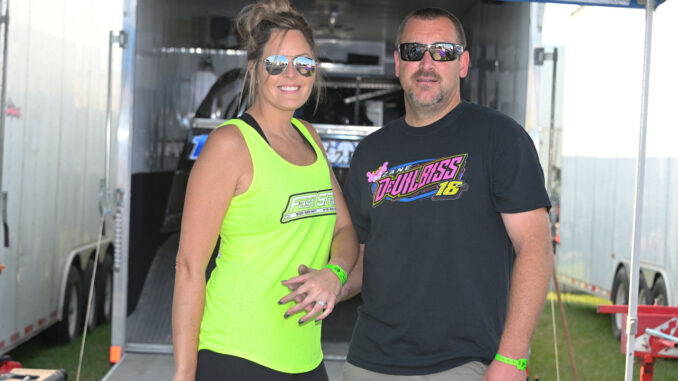 BOONE, Iowa (Sept. 8, 2022) – No matter how he finishes on the track, Ryan McDaniel will be the biggest winner at the 40th annual IMCA Speedway Motors Super Nationals fueled by Casey's.
The long-time Friesen Performance Modified driver from Olivehurst, Calif., popped the question to girlfriend Kara Webb Thursday in the NAPA Fan Zone, not far from where they met at Boone Speedway eight years ago.
Kara said yes, much to the delight of the world-wide audience watching on IMCA.TV.
"That took the cake," said McDaniel, who had bought Kara's ring in June and had it hidden away in a suitcase hoping she wouldn't find it before they arrived in Boone. "We qualified for the All-Star race and then this, which definitely makes it my best Super Nationals."
"We've made some memories."
McDaniel attended his first Super Nationals in 1999 and has been back in Boone in September every year but two since. Kara is from Denison and was a Super Nationals regular as well, coming as a spectator for America's Racin' Vacation.
Friends at first. They stayed in touch and renewed their acquaintance when she'd stop by McDaniel's trailer to say hello.
They became an official couple late last year and have made their long distance relationship work since, alternating trips to and from.
The two had begun talking marriage. McDaniel was already planning to propose at Super Nationals this year but didn't give Kara any hints so it would come as a surprise.
"We talked about Super Nationals. It's always a good time and a lot of our family was there," he said. "I had to wait a few days for the right time but it was worth it."
Announcer Jerry Vansickle had helped set the stage for the proposal, interviewing McDaniel during the track prep session that followed the last 10 Modified heat races and then turning the microphone over to him.