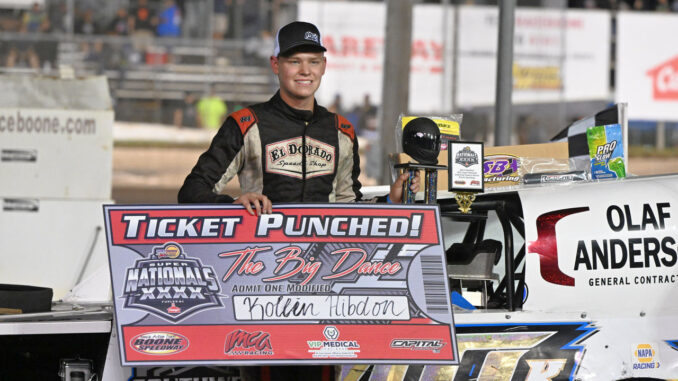 BOONE, Iowa (Sept. 8, 2022) – Kollin Hibdon and Jimmy Gustin took different routes to the same 40th annual IMCA Speedway Motors Super Nationals fueled by Casey's location Thursday night at Boone Speedway.
Hibdon took the lead on the second lap and pulled away following each restart in winning the evening's first Modified qualifying feature.
2010 champion Gustin followed Hibdon to victory lane but had to hold off Canadian ace Aaron Turnbull over the final 11 highly contested laps of the second qualifier to get there.
Top four finishers from each race advance to the middle row of the Saturday night main event. Zane DeVilbiss, the 22nd starting Kelly Shryock and 13th starting Justin O'Brien finished behind Hibdon; Aaron Johnson and Ashton Wilkey ran 3-4 in the nightcap.
Young Nevada hotshoe Hibdon drove by Tim Czarneski following an early restart and raced into lapped traffic with DeVilbiss behind at midway.
Shryock settled into third on lap 19. The last caution came with two laps left and the white flag was in the air when O'Brien took over the final transfer spot.
"The car was super good," said Hibdon. "Track conditions were in our favor. We were just really good."
Gustin was just as good in getting from sixth starting to the front of the second qualifier.
Wilkey and Riley Simmons were the front pair before Simmons lost power to bring out a lap 13 yellow.
Gustin and Turnbull rocketed by on the restart and their race was on. Johnson would catch Wilkey on lap 16 but neither had anything for the front pair.
"That guy from Canada, he raced me clean and I appreciated that," Gustin said, after returning to the championship night feature for the 15th time in his career. "It was pretty exciting to say the least."
Johnson and Wilkey are both first-time qualifiers for the Big Dance while Hibdon makes a second consecutive start.
Turnbull is in for the fourth time, DeVilbiss the fifth and O'Brien the sixth. Shryock became a 16-time qualifier.
The front eight on the outside row will qualify on Friday. Last-chance features Saturday complete the evening's main event field of 33.
The 40th annual IMCA Speedway Motors Super Nationals fueled by Casey's is broadcast by Speed Sport.TV affiliate IMCA.TV.
1st qualifier – 1. Kollin Hibdon, Pahrump, Nev.; 2. Zane DeVilbiss, Farmington, N.M.; 3. Kelly Shryock, Fertile; 4. Justin O'Brien, West Union; 5. Tim Ward, Harcourt; 6. Mike Mullen, Seymour, Wis.; 7. Mitchell Hunt, Kent City, Mich.; 8. Mike McKinney, Plainfield, Ill.; 9. Cory Davis, Seminole, Texas; 10. Kyle Heckman, Bakersfield, Calif.; 11. Scott Gartner, Jamestown, N.D.; 12. Clint Wendel, Mason City; 13. Kade Ogle, Lubbock, Texas; 14. Tyrone Yazzie, Farmington, N.M.; 15. Peyton Taylor, Batesville, Ark.; 16. Drew Janssen, Pella; 17. Ryan Roath, Peoria, Ariz.; 18. Chris Mills, Sioux City; 19. Bob Moore, Sioux City; 20. Mike Mashl, De Pere, Wis.; 21. Dustin Wilwert, Dubuque; 22. Kelsie Foley, Tucson, Ariz.; 23. Cory Wray, Trenton, Mo.; 24. Chad May, Rockford, Mich.; 25. Shane DeMey, Denison; 26. Tim Czarnesk, Denmark, Wis.; 27. Nick Meyer, Whittemore; 28. Corey Lagroon, Salina, Kan.; 29. Darrell Hughes II, Manteca, Calif.; 30. Matthew Day, Farmersville, Texas.
2nd qualifier – 1. Jimmy Gustin, Marshalltown; 2. Aaron Turnbull, Estevan, Sask.; 3. Aaron Johnson, Brainerd, Minn.; 4. Ashton Wilkey, Batesville, Ark.; 5. Ricky Alvarado, Delta, Colo.; 6. Troy Morris III, Bakersfield, Calif.; 7. Jeff Aikey, Cedar Falls; 8. Zack VanderBeek, New Sharon; 9. Johnathon Logue, Logansport; 10. Jaxon Saathoff, Beatrice, Neb.; 11. Joel Rust, Grundy Center; 12. Jeremy Mills, Clear Lake; 13. Grey Ferrando, Stayton, Ore.; 14. Dalton Houghton, Rosamond, Calif.; 15. Matthew Meinecke, Jamaica; 16. Ronn Lauritzen, LaPorte City; 17. John Parmeley, Phoenix, Ariz.; 18. Chase Rudolf, Norwalk; 19. Tyson Turnbull, Estevan, Sask.; 20. Dan Menk, Franklin, Minn.; 21. Fred Wojtek, Blackwell, Texas; 22. Josh Long, Little Suamico, Wis.; 23. Caleb Stone, Lovington, N.M.; 24. Jeremy Richey, Medford, Ore.; 25. Regan Tafoya, Farmington, N.M.; 26. Riley Simmons, Susanville, Calif.; 27. Richie Gustin, Gilman; 28. Russ Dickerson, Boone; 29. Dallon Murty, Chelsea; 30. Steven Whiteaker, Robstown, Texas.