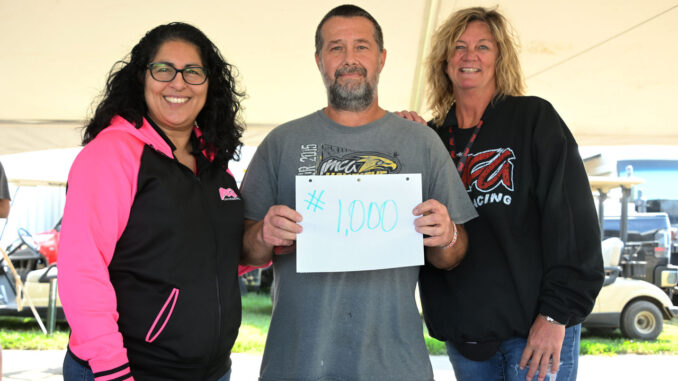 BOONE, Iowa (Sept. 9, 2022) – A driver from the town where the first IMCA Speedway Motors Super Nationals fueled by Casey's was held will become the 1,000th driver to compete at the record smashing 40th annual event this afternoon at Boone Speedway.
Jerry Dedrick of Vinton signed in at the registration tent at 10:40 a.m. Friday, then drew 259 for his upcoming Modified heat.
"I had pre-registered and took the week off from work," explained Dedrick, also in the middle of moving. "Then I wasn't able to get here as early because of that as I wanted to, but I told myself I was coming no matter what."
A three-time qualifier for the Super Nationals Late Model main event, Dedrick hasn't had the same luck in a Modified but has always enjoyed his trips to Boone as a driver or race fan.
He was surprised when informed by IMCA Director of Points and Membership Virginia Lindsey of his new place in the shared history of IMCA and Super Nationals.
"The racing part of today is going to be tough but this is awesome," Dedrick said. "It's crazy that I'm from Vinton, the home of IMCA and where they had the first Super Nationals, and that I ended up being the 1,000th driver."
He's raced a Modified since 2009 and naturally is a weekly regular at hometown Benton County Speedway.
Dedrick was nine years old when the first Super Nationals was held in Vinton in 1983. He doesn't remember anything about that race but is looking forward to the memories he'll make at the 40th annual event.
"I wanted to be part of the action," said Dedrick. "I want to have fun while I'm here and be part of Super Nationals."
The previous car count record at the world's biggest dirt track event was 909, set at Super Nationals just last year.
The IMCA Speedway Motors Super Nationals fueled by Casey's is broadcast by IMCA.TV.