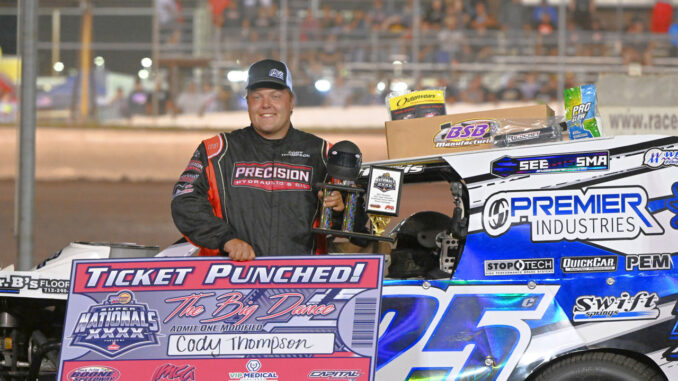 BOONE, Iowa (Sept. 7, 2022) – One driver saw a dream come true and another raced his way back to victory lane at Boone Speedway on the first night of Modified qualifying at the IMCA Speedway Motors Super Nationals fueled by Casey's. 
Cody Thompson led the last 15 of 25 laps in winning Wednesday's first qualifier while Dylan Thornton weathered two late restarts in topping the nightcap at Boone Speedway.
Top four finishers from both NAPA Pole Night events advance to the inside row of Saturday's $10,000 to win Championship Night show. Todd Stinehart, Cory Sauerman and Jacob Hobscheidt chased Thompson to the checkers. Ethan Braaksma, Jared Siefert and Brandon Beckendorf ran 2-3-4 behind Thornton.
Two hundred and fifty-two Modifieds were part of the record 995 cars that had competed at the 40th annual Super Nationals through Wednesday and drivers representing 19 states and Saskatchewan advanced to first-night qualifying features for the division.
Runner-up in the Northern SportMod main event at Boone in 2020 and IMCA's national rookie of the year in 2021, Thompson caught Stinehart for the lead after three early cautions slowed the first qualifier.
The race ran green from lap eight to the finish and Thompson checked out before taking the checkers.
"I knew I had a good hot rod coming into the race," said Thompson, also a multi-time qualifier for the Sport Compact Dance. "This is a dream come true. Back in the day I can remember thinking what it would mean to be a Super Nationals champion. It would mean a lot because this race is so prestigious."
Thornton had to chase down a very fast Trey Kline, finally taking over up front 16 laps into the second qualifier.
He proved up to the task in holding off a trio of hard chargers following those two late cautions as Braaksma came from 10th, Siefert from 12th and Beckendorf from 14th to finish behind him.
A qualifying feature winner and runner-up in last year's Stock Car main event, Thornton had also won Boones' Tammy Stevens Memorial in July.
"It's always awesome to win at Boone Speedway," he said. "The catwalks are full and the people are going crazy. There's nothing like it."
Thompson and Hobscheidt are first-time qualifiers while Sauerman, Thornton, Braaksma and Beckendorf all go dancing for the second time. Stinehart advances to his fourth Saturday show, Siefert his fifth.
Stinehart is back on the Championship grid for the first time since 2007 while Beckendorf is back for the first time since 2012.
Eight Modifieds qualify for the middle row on Thursday, another eight for the outside row on Friday.
The 40th annual IMCA Speedway Motors Super Nationals fueled by Casey's is broadcast by IMCA.TV.
1st qualifier – 1. Cody Thompson, Sioux City; 2. Todd Stinehart, Waseca, Minn.; 3. Cory Sauerman, Johnston; 4. Jacob Hobscheidt, Plattsmouth, Neb.; 5. Ricky Alvarado, Delta Colo.; 6. Josh Long, Little Suamico, Wis.; 7. Grey Ferrando, Stayton, Ore.; 8. Jerry Flippo, Bakersfield, Calif.; 9. Dalton Magers, Redwood Falls, Minn.; 10. Scott Simatovich, State Center; 11. Troy Morris III, Bakersfield, Calif.; 12. Kellie Drury, Eldora; 13. Richie Gustin, Gilman; 14. Cody Laney, Torrance, Calif.; 15. Josh Gilman, Earlham; 16. Noah Burlison, Malvern, Ark.; 17. Mike Petersilie, Hoisington, Kan.; 18. Tyson Turnbull, Estevan, Sask.; 19. Chris Abelson, Sioux City; 20. Bob Moore, Sioux City; 21. Kollin Hibdon, Pahrump, Nev.; 22. Tom Berry Jr., Des Moines; 23. Steven Whiteaker, Robstown, Texas; 24. Jordy Nelson, Marysville, Kan.; 25. Trent Loverude, New Ulm, Minn.; 26. Eddie Sites, Towanda, Pa.; 27. Caleb Stone, Lovington, N.M.; 28. Jesse Skalicky, Fargo, N.D.; 29. Jason Schneiders, North Sioux City, S.D.; 30. Dan Roedl, Beaver Dam, Wis.
2nd qualifier – 1. Dylan Thornton, Santa Maria, Calif.; 2. Ethan Braaksma, Newton; 3. Jared Siefert, Luemburg, Wis.; 4. Brandon Beckendorf, Danube, Minn.; 5. Aaron Johnson, Brainerd, Minn.; 6. Trey Kline, Schleswig; 7. Joel Rust, Grundy Center; 8. Lucas Lamberies, Clintonville, Wis.; 9. Bricen James, Albany, Ore.; 10. Nick Roberts, Des Moines; 11. Ryan Jenkins, Blair, Neb.; 12. Jeff Aikey, Cedar Falls; 13. Dustin Kroening, Hebron, Ill.; 14. Jake Pike, Pahrump, Nev.; 15. Dan Menk, Franklin, Minn.; 16. Josh Munsen, Atchison, Kan.; 17. John Burrow, Denver, Colo.; 18. Cody Schroeder, Manitowoc, Wis.; 19. Jeff Taylor, Batesville, Ark.; 20. Chris Spalding, Montgomery City, Mo.; 21. Johnathon Logue, Logansport; 22. Chance Allen, Alma, Mich.; 23. Ethan Robey, Ames; 24. Jeff Bodendorfer, Waterford, Mich.; 25. Cory Davis, Seminole, Texas; 26. Hunter Parsons, Green Bay, Wis.; 27. Tim Hamilton, Lindsay, Okla.; 28. Jim Cole, Sioux City; 29. Johnny Saathoff, Beatrice, Neb.; 30. Todd Shute, Norwalk.