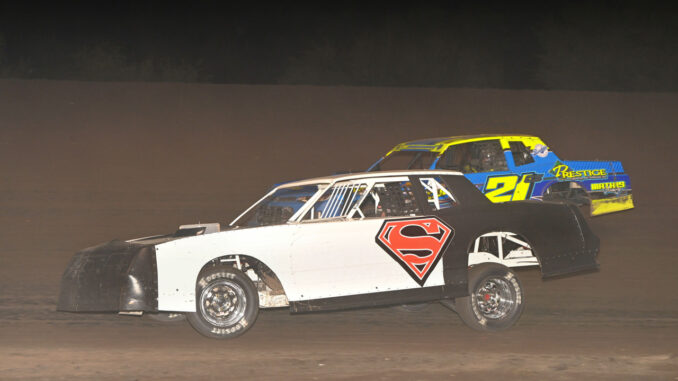 Ben Deatherage
BOONE, Iowa (Sept. 8, 2022) – One down, one to go.
On Wednesday night at Boone Speedway, Collen Winebarger became the first Oregon driver to qualify for the Stock Car Big Dance at the IMCA Speedway Motors Super Nationals fueled by Casey's.
The Corbett racer is pulling double duty at this year's event and next looks to qualify for the Modified finale on Saturday night.
"Our goal here always starts pretty simple," Winebarger commented. "You've got to get into the race first. You hope that you hit draws good, have a good car, have good speed, get into the race and reevaluate. Getting the Stock Car in was cool. Now we need to work on the Modified."
Winebarger qualified for last year's Modified dance and finished 21st. He was also 12th in the B & B Racing Chassis Stock Car All-Star Invitational.
Although his 2022 has seen a limited amount of runs, Collen has picked up four numerous wins.
Modified triumphs have come at Sunset Speedway Park in Banks, Ore., Lebanon, Ore.'s Willamette Speedway, and Grays Harbor Raceway in Elma, Wash.. He also has gotten Stock Car wins at Willamette and Sunset.
"This year has been busy and quick. We didn't race for a while because there was so much rain in the spring and summer," he said. "When we did start racing, it was two or three days a week with Stock Cars, Modifieds and Late Models. It's been successful, and we won some big races."