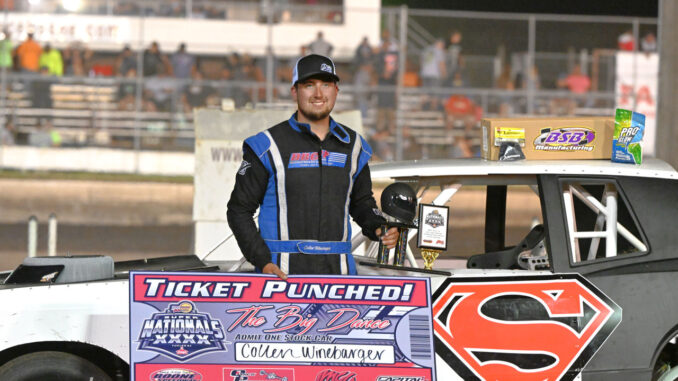 BOONE, Iowa (Sept. 7, 2022) – The defending champion and the driver of the Superman car led their respective fantastic four's to the finish line on the first night of qualifying for the record-breaking Stock Car division at the 40th annual IMCA Speedway Motors Super Nationals fueled by Casey's.
2021 king Dallon Murty raced from second place to the lead following a restart 17 laps into the first qualifying feature, then led a field featuring another six former Super Nationals champions to the stripe Wednesday at Boone Speedway.
Collen Winebarger adjusted quickly to the Iowa dirt, driving his Superman logo-numbered ride to victory lane in the second qualifier and becoming the first driver from Oregon to make the Stock Car Big Dance.
The top four finishers from each race advance to the inside row of Saturday's main event.
A Super Nationals record 243 Stock Cars saw action on NAPA Pole Night. That's 19 more than the division record set in 2021 and a big part of the event record 995 cars that had competed at Boone through Wednesday.
Murty became the youngest champion in Super Nationals history last September and the now 17-year-old dogged Brandon Conkwright before getting to the front.
The four cars behind him sped fast and furious with stoppages on laps 17 and 20 the result. Buck Schafroth, Troy Jerovetz and Donavon Smith ran in that order behind Murty the last four laps.
"The car isn't exactly where we want it but we'll be ready for Saturday," Murty promised from victory lane. "This was a great way to start off the week."
Winebarger, like Murty a two-division star, wheel hopped on lap seven after catching an infield tire in turn three, then caught Cole Czarneski for the lead the next time around the track.
Troy Burkhart locked himself into second on lap 10 and Robert Waechter Jr. settled into third two laps later. Luke Lemmens completed his run all the way from 24th starting to fourth on lap 20.
"That was awesome. Being on the stage at Boone is pretty cool," said Winebarger, who was able to decide where he'd run after watching most of the first feature from outside his car. "The color of the dirt is definitely different here than it is at home."
Winebarger, Burkhart and Waechter each qualified for the first time, Murty and Lemmens for the second.
Schafroth goes dancing for the third time and Jerovetz the fourth, while Smith will make the Saturday night start at Super Nationals for the 20th consecutive year.
Smith qualified in the Hobby Stocks from 2003-2006, winning in 2004, and has taken the green flag in the Stock Car main every year since 2007, winning that event in 2009, 2012 and 2020.
Qualifying for the front eight in the middle row is Thursday, along with the B & B Racing Chassis All-Star Invitational.
The 40th annual IMCA Speedway Motors Super Nationals fueled by Casey's is broadcast by IMCA.TV.
1st qualifier – 1. Dallon Murty, Chelsea; 2. Buck Schafroth, Orient; 3. Troy Jerovetz, Iowa Falls; 4. Donavon Smith, Lake City; 5. Mike Albertsen, Audubon; 6. Benji LaCrosse, Casco, Wis.; 7. Brandon Conkwright, Wamego, Kan.; 8. Scott Davis, Madrid; 9. Blake Clark, Joshua, Texas; 10. Riley Simmons, Susanville, Calif.; 11. Tyler Wilson, Little Suamico, Wis.; 12. David Smith, Lake City; 13. Elijah Zevenbergen, Ocheyedan; 14. Dusty Van Horn, Atlantic; 15. Todd Reitzler, Grinnell; 16. Lance Hanson Jr., Palmer, Texas; 17. Cody Center, Mesa, Ariz.; 18. Devin Smith, Lake City; 19. Jay Schmidt, Tama; 20. Troy Swearingen, Thompson; 21. Derek Green, Granada, Minn.; 22. Nathan Ballard, Marengo; 23. Clint Forstner, Shiocton, Wis.; 24. Kelly Shryock, Fertile; 25. Damon Murty, Chelsea; 26. Peyton Taylor, Batesville, Ark.; 27. Scott Rice, Marshalltown; 28. Kole Nordquist, Beresford, S.D.; 29. Aaron Spangler, Dove Creek, Colo.; 30. Kyle Vanover, Beatrice, Neb.
2nd qualifier – 1. Collen Winebarger, Corbett, Ore.; 2. Troy Burkhart, Hays, Kan.; 3. Robert Waechter Jr., De Pere, Wis.; 4. Luke Lemmens, De Pere, Wis.; 5. Austin Kaplan, Collins; 6. Jeff Steenbergen, Johnson Creek, Wis.; 7. Tanner Pettitt, Norfolk, Neb.; 8. Josh Daniels, Carlisle; 9. Timothy Warner, Malone, Wis.; 10. Dylan Thornton, Santa Maria, Calif.; 11. Jeffrey Larson, Reading, Minn.; 12. Derek Moede, New Franken, Wis.; 13. Trent Murphy, Scranton; 14. Shawn Havel, Algoma, Wis.; 15. Chanse Hollatz, Clear Lake; 16. Heath Tulp, Britt; 17. Trent Nolan, Shawano, Wis.; 18. Curt Lund, Redwood Falls, Minn.; 19. Dennis Bissonnette, Stephenville, Texas; 20. Mike Van Genderen, Newton; 21. Jeffrey Abbey, Comanche, Texas; 22. Jared Siefert, Luxemburg, Wis.; 23. Matt Guillaume, Haslet, Texas; 24. Austin VanHoff, Chowchilla, Calif.; 25. Jason Ward, Sioux City; 26. Kevin Robinson, Woodward; 27. John Oliver Jr., West Burlington; 28. Cole Czarneski, Denmark, Wis.; 29. Dustin Reeh, Council Bluffs; 30. Connor Masoner, St. Joseph, Mo.