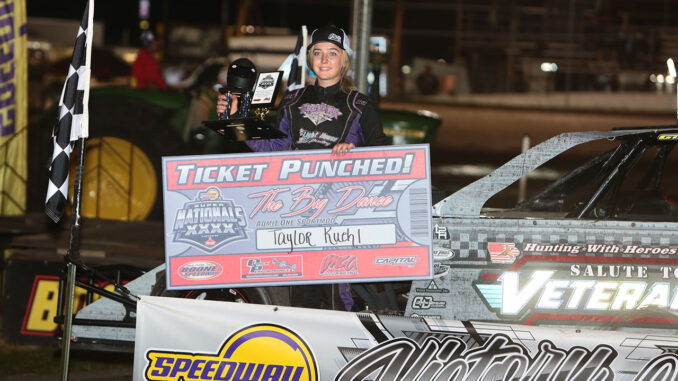 BOONE, Iowa (Sept. 6, 2022) – Taylor Kuehl started the season at Boone Speedway by topping the April Frostbuster special.
Now she'll look to end the year with a much bigger victory.
The Arizona native led every lap in winning Tuesday's first qualifying feature for Northern SportMods at Boone and will start at the front of the middle row in the Saturday night IMCA Speedway Motors Super Nationals fueled by Casey's championship event.
"I've been watching Super National for years. I always hoped to make the show but to start on the front row is a dream come true," said Kuehl, the first female driver in the division to accomplish the front row feat. "A goal now is a podium finish but I've watched a lot of my idols win Super Nationals championships. It would be another dream come true for me to do that on Saturday."
Kuehl drew the pole start and held off familiar foe Jake Sachau, winner of the BSB Manufacturing Race of Champions earlier in the program, following the last two restarts near halfway of the 25-lapper.
They were followed across the stripe and into the Big Dance by 16th starting Robbie Thome, Ben Chapman, Brett Berry, Austin Schrage, 20th starting Kyle Olson and 22nd starting Alec Fett.
"We wanted to race more, we saw the opportunity to do that here and it paid off for us tonight," said Kuehl, who honed her skills at a dozen different tracks in the Midwest over the summer. "The car was awesome. We definitely had it dialed in."
Colby Fett, another driver already familiar with the winner's circle at Boone, completed his charge from outside row five to the front with just four laps to go in the second qualifier. He then held off Cam Reimers to capture the outside front row start in Saturday's big show.
Joe Reetz led the first 10 circuits before Reimers raced by following the first of two restarts before midway.
Fett was running third not long after those yellows. He took second on lap 19, was alongside Reimers on lap 21 and in first the next time around.
"We took it easy at the beginning. The track was awesome top to bottom," said Fett. "This was very special. You never know when your next win is going to be. The competition is getting so much better."
Brian Schrage, Reetz, Josh Appel, the 19th starting Jeff Steenbergen, Dustin Lynch and Stephen Clancy finished third through eighth and will join Fett and Reimers on the outside row.
Joining Kuehl as first-time qualifiers are Appel, Reetz, Reimers, Brian Schrage and Steenbergen Berry, Clancy, Lynch, Sachau and Thome each make career second Championship Night starts.
Chapman, Olson and Schrage each qualified for the fourth time, Alec Fett the fifth and Colby Fett the sixth.
Last chance racing on Wednesday completes the Northern SportMod main event field of 30.
The 40th annual IMCA Speedway Motors Super Nationals fueled by Casey's is broadcast by IMCA.TV.
1st qualifier – 1. Taylor Kuehl, Cave Creek, Ariz.; 2. Jake Sachau, Manning; 3. Robbie Thome, Spalding, Neb.; 4. Ben Chapman, Clarence; 5. Brett Berry, Hays, Kan.; 6. Austin Schrage, Knoxville; 7. Kyle Olson, Cedar Rapids; 8. Alec Fett, Burt; 9. Brayden Ahlers, Slayton, Minn.; 10. Justin Erickson, Glendale, Ariz.; 11. Derek Murphy, Colorado Springs, Colo.; 12. Chad Shaw, Trimble, Mo.; 13. Dakota Girard, Moberly, Mo.; 14. Nate Whitehurst, Mason City; 15. Kyler Girard, Moberly, Mo.; 16. Jonah Chinn, Sioux City; 17. Coleman Browning, Cameron, Mo.; 18. Shelby Alves, Casa Grande, Ariz.; 19. Camron Spangler, Dove Creek, Colo.; 20. Carter VanDenBerg, Oskaloosa; 21. Garrett Nelson, Osceola; 22. Justin Bell, Louisville, Neb.; 23. Kaylin Lopez, Chowchilla, Calif.; 24. Cody Yaw, Altoona; 25. Ryan Moser, Englewood, Colo.; 26. Justin Raymond, Burt; 27. Brandon Tharp, Vinton; 28. Danny Fye, Boxholm; 29. Aiden Webb, Roland; 30. Mike Munson, Boxholm
2nd qualifier – 1. Colby Fett, Algona; 2. Cam Reimers, Kelley; 3. Brian Schrage, Cresco; 4. Joe Reetz, Dunlap; 5. Josh Appel, Garner; 6. Jeff Steenbergen, Johnson Creek, Wis.; 7. Dustin Lynch, Boone; 8. Stephen Clancy, Odessa, Mo.; 9. Arie Schouten, Blair, Neb.; 10. Alissa Palsrok, Estherville; 11. Jace Whitt, Hamilton, Mo.; 12. Cole Czarneski, Denmark, Wis.; 13. Tommy Tanner, Hinton; 14. Brady Hilmer, Dysart; 15. Cole Fenske, Waukee; 16. Jacob Arp, Donahue; 17. Brian Baker, Bakersfield, Calif.; 18. Willy Kirk, Sloan; 19. Clay Erickson, Phoenix, Ariz.; 20. Karl Brewer, Vermillion, S.D.; 21. Jackson Harpole, Farmington, N.M.; 22. Dylan VanWyk, Oskaloosa; 23. Dusty Masolini, Des Moines; 24. David Johnson, Columbus, Neb.; 25. Lee Horky, Fairbury, Neb.; 26. Aaron Wiersma, Sioux Falls, S.D.; 27. Brayton Carter, Oskaloosa; 28. Jacey Archer, Hays, Kan.; 29. Steve McLaughlin, Newton; 30. Shane Paris, Muscatine.