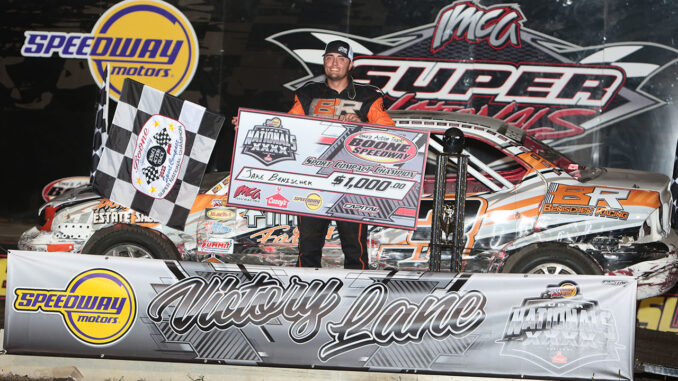 BOONE, Iowa (Sept. 6, 2022) – After getting held up most of the race, Jake Benischek held up an IMCA Speedway Motors Super Nationals fueled by Casey's championship trophy. 
Benischek completed his run to the front on the top side of the Boone Speedway oval, catching Kimberly Abbott with two laps to go to win his first Sport Compact crown and $1,000 Tuesday night.
A record 91 Sport Compacts from 16 states were at Boone for the 40th annual Super Nationals and the division's 10th appearance as part of America's Racin' Vacation will long be remembered as one of its best.
"This is something we've been chasing for a long time. I feel like we've always been pretty fast but this is one tough race to win," Benischek said, following his career seventh start in the Big Dance. "You've got to get lucky and you've got to be fast."
"Some years we were neither and some years we were both, and I guess we ended up here today."
Abbott's runner-up finish was the best by a female driver competing in any division now on the Super Nationals schedule. She'd been third in the 2016 event.
Shannon Mahlberg, who led much of the 25-lapper, and defending race winner Mitch Bielenberg completed the top four.
Mahlberg ran ahead of Bielenberg before the ninth starting Abbott slipped into the runner-up spot at the end of lap eight.
She was cutting into Mahlberg's lead before the only caution came out at midway. The two stayed close with Abbott gaining the lead by the narrowest of margins on lap 20.
Benischek finally found open air behind the front pair, passing Mahlberg with three laps left and then Abbott with two laps left.
"I was getting held up for probably 20 laps there and once I got clear, I knew I had to get going," he said. "Luckily those guys battled on the bottom. They left the top wide open and I took advantage of it."
Hard charger Kolby Sabin started 28th and finished 10th.
In addition to Iowa, the very geographically diverse entries of 4-cylinder cars came from California, Colorado, Illinois, Kansas, Kentucky, Minnesota, Nebraska, New Mexico, North Dakota, Oklahoma, Oregon, South Dakota, Texas, Utah and Wisconsin.
Chuck Fullenkamp qualified for the eighth time in his career while Dylan Whitley became the first Oklahoma driver to make the show.
The previous Super Nationals Sport Compact car count record of 84 was set in 2017.
The IMCA Super Nationals are broadcast by IMCA.TV.
Feature results – 1. Jake Benischek, Durant; 2. Kimberly Abbott, Camp Point, Ill.; 3. Shannon Mahlberg, Dunlap; 4. Mitch Bielenberg, Charlotte; 5. Lukas Rick, Urbana; 6. Mick Rykhus, Le Center, Minn.; 7. Bradley Reu, Donnellson; 8. Zach Bohlmeyer, Beatrice, Neb.; 9. Curtis Masterson, New Virginia; 10. Kolby Sabin, Des Moines; 11. Sean Leasure, Mansfield, Texas; 12. R.J. Esqueda, Granada, Minn.; 13. Mitchell Bunch, Des Moines; 14. Jay Crabill, Cedar Rapids; 15. Ryan Bryant, Mason City; 16. Jerry Coopman, Mankato, Minn.; 17. Blaine Ellis, Sebree, Ky.; 18. Conner Brown, Yankton, S.D.; 19. Riley Paysen, Wall Lake; 20. Joe Nichols, Lewis; 21. Jason Bolte, Odin, Minn.; 22. Madison Reed, Stockton, Kan.; 23. Taylor Brown, Yankton, S.D.; 24. Chuck Fullenkamp, West Point; 25. Kaytee DeVries, Spencer; 26. Branston Arnder Jr., Salina, Kan.; 27. Chandler Fullenkamp, West Point; 28. Dylan Whitley, Enid, Okla.; 29. Josh Barnes, Keokuk; 30. Aiden Wagner, Minot, N.D.