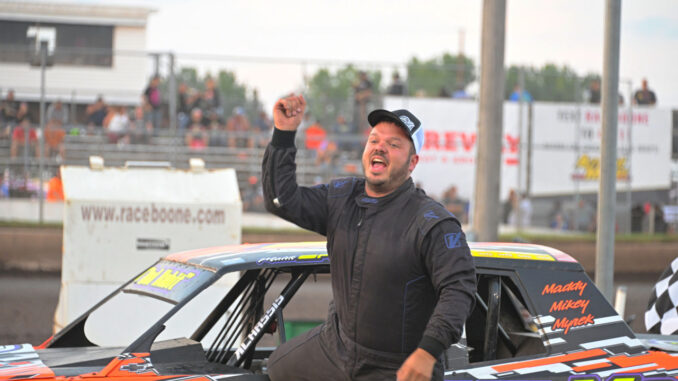 BOONE, Iowa (Sept. 5, 2022) – Malik Sampson used the high line on Monday night to put himself in a pretty good spot on Saturday. 
The Worthington, Minn., driver topped the first of two Labor Day Hobby Stock qualifying features at Boone Speedway to earn the pole start in the Sept. 10 IMCA Speedway Motors Super Nationals fueled by Casey's main event.
Brandon Nielsen won the evening's second qualifier and will start at the front of the middle row in the Big Dance.
"I was trying not to do anything dumb," the affable Sampson said from victory lane, after leading the last 23 of 25 laps and beating a tenacious James Johnson to the checkers by .744 of a second. "I'm in a pretty good spot, starting on the pole. We'll see what kind of track we have on Saturday."
From Spencer, Nielsen led start to finish in the second qualifier, with defending champion Mike Smith motoring from 12th starting to run second the last nine circuits.
"We've had a good day. We put her on the podium and made the race of champions," said Nielsen. "When you come here on a Monday in a Hobby Stock, it doesn't get much better than this."
Lining up behind Sampson and Johnson on the inside row will be Skylar Pruitt, Zach Olmstead, Tanner Clough, Brandon Cox, Seth Janssen and John Watson. Michael Kimm. Josh Sidles, Riley Christensen, Gavin Bussinger, Parker Anderson and Kyle Parizek take the green flag third through eighth in the middle row.
2016 runner-up Watson is the dean of first-night qualifiers with his 11th career start in the Big Dance. Nielsen is in for the eight time, Sampson the seventh and Johnson the fourth.
Three-time qualifiers are Cox, Janssen, Smith and Parizek while Kimm, Olmstead and Sidles each make their second Saturday night starts.
Anderson, who raced his way into the show from 26th starting, Bussinger, Clough, Christensen and Pruitt all qualified for the first time.
The outside row of eight will qualify on Tuesday with last chance racing on Wednesday completing the 30-car field.
The week of Super Nationals is broadcast by IMCA.TV.
1st qualifier – 1. Malik Sampson, Worthington, Minn.; 2. James Johnson, Cherokee; 3. Skylar Pruitt, Linden; 4. Zach Olmstead, Overton, Neb.; 5. Tanner Clough, Wallace, Neb.; 6. Brandon Cox, Norwalk; 7. Seth Janssen, Ogden; 8. John Watson, Des Moines; 9. Bradly Graham, Victor; 10. Brett Vanous, Quasqueton; 11. Tristan Grape, Columbus, Neb.; 12. Randy LaMar, Buffalo; 13. Eric Stanton, Carlisle; 14. Jeremy Johnson, Worthington, Minn.; 15. Travis Blythe, Beatrice, Neb.; 16. Jacob Robinson, Minot, N.D.; 17. Thomas Daffern, Brawley, Calif.; 18. Aron Fye, Alden; 19. Jim Ball Jr., Independence; 20. Matt Brown, Dysart; 21. Andrew Burk, Milan, Ill.; 22. Craig Brotherton, Wall Lake; 23. Seth Butler, Scranton; 24. Jordan Androy, Dunlap; 25. Wayne Gifford, Boone; 26. Luke Phillips, Wapello; 27. Carter Davis, Hinton; 28. Dylan Nelson, Adel.
2nd qualifier – 1. Brandon Nielsen, Spencer; 2. Mike Smith, Lake City; 3. Michael Kimm, Vinton; 4. Josh Sidles, Emmetsburg; 5. Riley Christensen, Audubon; 6. Gavin Bussinger, Granada, Minn.; 7. Parker Anderson, Welcome, Minn.; 8. Kyle Parizek, Hartwick; 9. Eric Knutson, Slater; 10. Colby Christensen, Audubon; 11. Jimmy Doescher, Hollandale, Wis.; 12. Ben Schneiders, Sioux City; 13. Alex Tvedt, Minot, N.D.; 14. Scott Wetter, Platteville, Wis.; 15. Dalton Coady, Newton; 16. Solomon Bennett, Minburn; 17. Stephen Doss, Boone; 18. Tyson Overton, Carlisle; 19. Les Lundquist, Sioux City; 20. Nicholas Adams, Emmetsburg; 21. Luke Ramsey, Bedford; 22. John Ross, Rushmore, Minn.; 23. Chad Rigby, Madrid; 24. Curt Reed, Des Moines; 25. Darin Johnson, Dickens; 26. Matt McDonald, Scranton; 27. Zach Bales, Merrill; 28. Jacob Floyd, Cedar Rapids.