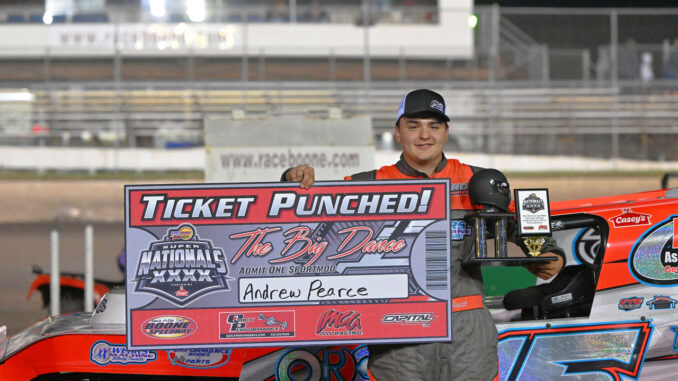 BOONE, Iowa (Sept. 5, 2022) – A youngster taught the veterans a thing or two in the final race on opening night of the IMCA Speedway Motors Super Nationals fueled by Casey's.
Sixteen-year-old Andrew Pearce of Oakley, Calif., led all 25 laps of Monday's qualifying feature for Northern SportMods. He'll start on the pole in the championship event Saturday at Boone Speedway.
The Labor Day program saw 338 cars – 172 Northern SportMods, 125 Hobby Stocks and 41 Late Models – in action.
Pearce won the 17th of 20 heats and started the qualifier from fifth. He caught up with the back of the field 10 laps in and ran with traffic as the race stayed green to the finish.
"I was just hoping to make the feature. I still can't believe it," the second-year racer said following his latest impressive run at Boone. "My grandfather, my dad Brian and uncle (Kellen Chadwick) got me where I am today. I can't thank them enough."
Eleventh in last year's Big Dance and now a senior at Freedom High School, Pearce is keeping up with his studies online while in the Midwest. His team departed California Sunday morning and arrived at the Rage Chassis shop in West Union late Monday afternoon.
They finished building his car Tuesday night, did setup on Wednesday and got in test runs at Marshalltown and Vinton. Pearce won his Sunday Prelude heat and finished mid-pack in the feature.
One unique accomplishment he brings to the 40th anniversary Super Nationals is that all seven of his Friesen Performance IMCA Northern SportMod career feature wins, four as a rookie and three this season, have come at different tracks.
"Boone definitely has a different character for sure," said Pearce, hoping to make Iowa's Action Track the next addition to that list this weekend. "It would be pretty incredible, especially coming from California, to win on Saturday night. It would be insane."
Lining up behind Pearce on the inside row will be rookie Braden Richards, Jarett Franzen, Ryan Gillmore, Matt Looft, Curtis Veber, Logan Anderson and Tony Olson. Texas teen Mason Day had run second most of the way Monday but was disqualified in post-race tech due to a rear suspension infraction.
Olson is now a 10-time main event qualifier. Franzen and Looft make their career third starts while Anderson, Gillmore, Pearce and Veber each go dancing a second time. Richards complements his first Northern SportMod start with a pair of Saturday night Hobby Stock starts already on his resume.
Tuesday features send eight cars to the middle and outside rows, respectively. The last six cars in the field of 30 will qualify on Wednesday.
The 40th annual Super Nationals is broadcast by SPEED SPORT.TV affiliate IMCA.TV.
Qualifying feature results – 1. Andrew Pearce, Oakley, Calif.; 2. Braden Richards, Madrid; 3. Jarett Franzen, Maquoketa; 4. Ryan Gillmore, Springfield, Mo.; 5. Matt Looft, Swea City; 6. Curtis Veber, Polk City; 7. Logan Anderson, Eddyville; 8. Tony Olson, Cedar Rapids; 9. Will Garceau, Francis Creek, Wis.; 10. Jake Sachau, Manning; 11. Cam Reimers, Kelley; 12. Tim Eaton, St. Joseph, Mo.; 13. Kyle Olson, Cedar Rapids; 14. Chad Ryerson, Wellsburg; 15. Arie Schouten, Blair, Neb.; 16. Lance Borgman, Beatrice, Neb.; 17. Dakota Girard, Moberly, Mo.; 18. Brian Schrage, Cresco; 19. Jacob Mallet Jr., Oakley, Calif.; 20. Cole Czarneski, Denmark, Wis.; 21. Charlie Stevens, Algona; 22. Jason Bannister, Bakersfield, Calif.; 23. Miles Morris, Yuma, Ariz.; 24. Robby Rosselli, Minot, N.D.; 25. Tim Stallbaumer, Tecumseh, Kan.; 26. Travis Burger, Leonardsville, Kan.; 27. Tom Lathrop, Ottumwa; 28. Robbie Thome, Spalding, Neb.;
29. Karl Brewer, Vermillion, S.D.; 30. Mason Day, Farmersville, Texas.