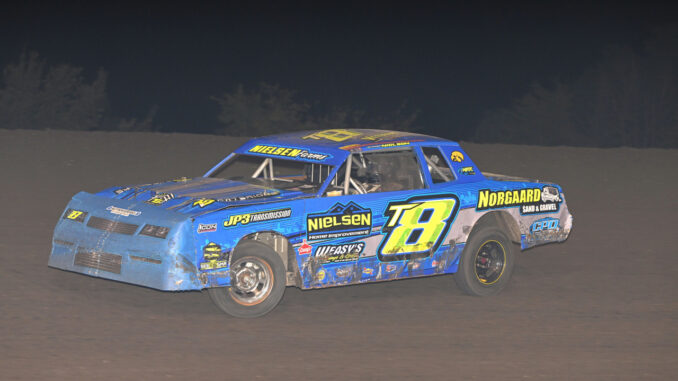 By Ben Deatherage
BOONE, Iowa (Sept. 6, 2022) – Brandon Nielsen scored a major triumph on his IMCA Speedway Motors Super Nationals fueled by Casey's qualifying night. The Spencer, Iowa, driver is no stranger to dancing at Boone Speedway but has never won the main event. 
Could this year be a different story?
"We've been struggling with this car on getting it up off the corner," said Nielsen "I've always been able to get it to turn, but we're just not the best coming out of the corner. So we took a couple of swings at it last night and it worked perfectly."
Seven times Nielsen has waltzed on the final night of Super Nationals. His best result was in 2015 when he got third in the Saturday show.
Opening night of the 40th annual Super Nationals marked the first time he won a qualifier.
"It would mean that little brother (Cody Nielsen in 2011) couldn't be the only one bragging about being on a T-shirt for this race" he said, when asked what it would mean to win Super Nationals. "We are going to let her eat and see what happens."
2022 has seen a limited schedule for Nielsen but he has earned four wins at four different facilities, Clay County Fairgrounds Speedway in his hometown, Algona's Kossuth County Speedway, Buena Vista Raceway in Alta and Boone.
"This year has been pretty good. I went on some school trips with my daughter so we gave up on chasing points and have been chasing some money a bit here and there," he said. "We gave away more wins than we earned but overall it's been pretty successful."