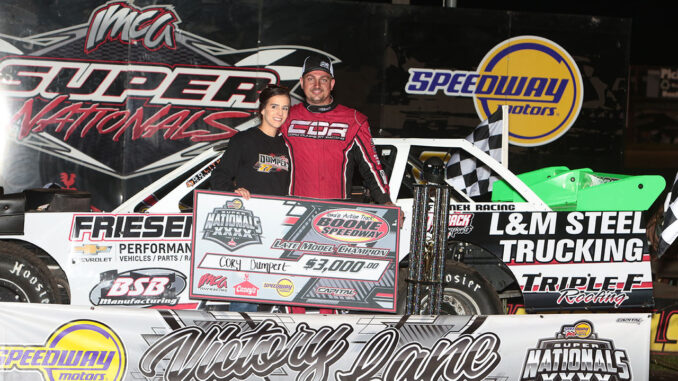 BOONE, Iowa (Sept. 5, 2022) – Cory Dumpert wrote his name in the IMCA Speedway Motors Super Nationals fueled by Casey's history book following an epic battle and an epic finish to Monday night's Late Model championship event.
After qualifying out of a 'B' feature and starting 11th in the main, Dumpert worked his way to the front through heavy Labor Day traffic, ultimately holding off Jeff Aikey and becoming the first Nebraska driver to win the Late Model crown at Boone Speedway.
"Early on, I told myself to be patient and I was able to pass cars one or two at a time. I looked up, saw I was in fifth and thought 'Holy crap.' The next thing I knew I was in third," said Dumpert, who drove past Aikey on the 40th of 50 laps for second and then caught Texan Dean Abbey for the lead the next time around. "Once I got to the front I tried to hit my marks, keep the car straight and told myself it was my race to lose now."
"It only took me four years to get here," he'd add after the $3,000 checkers flew. "The first two years I DNF'd and I finished second to Justin Kay last year. I've raced with Jeff and I knew he was coming, but I also knew he'd race me clean."
Aikey, running for a record-extending eighth Super Nationals title – seven of them in the Late Model – led much of the 50-lapper and was on Dumpert's back bumper at the finish, just .167 of a second behind.
The first Lone Star State driver to make the main event in the Late Model division's Super Nationals history and previously a Modified and Stock Car qualifier, Abbey ended in third. Fellow first-time qualifier Dustin Schram and veteran Joel Callahan completing the top five.
Forty-one Late Models, the most at Boone in a decade, saw action at the 40th annual Super Nationals.
Three cautions slowed the early going before the feature field found its rhythm. Aikey was out front for the first nine laps, then swapped the lead with Jesse Sobbing on each of the next two circuits.
He caught up with the back of the pack by lap 18 and had a half straightaway advantage in traffic by midway. Abbey reeled in Sobbing for second and quickly caught up with Aikey, going around for the lead with 10 to go.
Dumpert saw an opportunity and completed his own charge to the front on lap 41; Aikey got back ahead of Abbey following the first of two late restarts but came up just short of catching Dumpert in the green, white, checkered finish.
Dumpert had just enough left in the tank in his tank to outrun Aikey & Co., his engine dying out during celebratory burnouts on the front stretch.
He'll focus now on winning an IMCA modern era record fourth straight national Late Model crown.
"It's hard to compare winning a national championship with winning Super Nationals. They're both great," Dumpert said. "Tonight was like a sprint. I'm not done with what I want to accomplish this season."
Another much accomplished driver and a qualifier for each of the 32 Late Model main events held at Super Nationals since 1988, Darrel DeFrance was sixth. Hard charger Andy Nezworski started last in the field of 24 and finished ninth.
Feature results – 1. Cory Dumpert, York, Neb.; 2. Jeff Aikey, Cedar Falls; 3. Dean Abbey, Boyd, Texas; 4. Dustin Schram, Sterling, Ill.; 5. Joel Callahan, Dubuque; 6. Darrel DeFrance, Marshalltown; 7. Mitch Manternach, Dyersville, Iowa; 8. Bryan Klein, Clarence; 9. Andy Nezworski, Blue Grass; 10. Jesse Sobbing, Malvern; 11. Joe Beal, Milan, Ill.; 12. Andy Eickhoff, Albion, Neb.; 13. Justin O'Brien, West Union; 14. Blair Kraus, Omaha, Neb.; 15. Dalton Simonsen, Fairfax; 16. Gary Webb, Blue Grass; 17. Matt Ryan, Davenport; 18. Nick Marolf, Moscow; 19. Richie Gustin, Marshalltown; 20. Jake Bridge, Waverly, Neb.; 21. Fred Remley, Anamosa; 22. Sean Johnson, Independence; 23. Cole Wayman, Lincoln, Neb.; 24. Brandon Rothzen, Mediapolis.