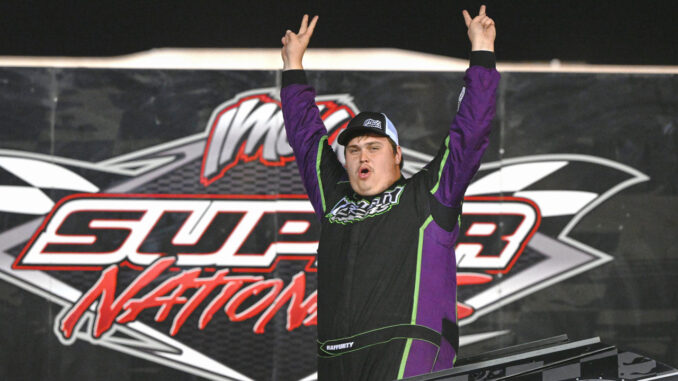 BOONE, Iowa (Sept. 4, 2022) – Dillon Raffurty had to know his biggest fan had the best seat in the house to watch Sunday's STARS Mod Lite championship event at the 40th annual IMCA Speedway Motors Super Nationals fueled by Casey's.
Having already repeated as winner of the race of champions earlier in the afternoon at Boone Speedway, the Kansas City, Mo., star made it back-to-back Super Nationals titles after running second much of the 30-lapper behind Brandon Freeburg.
The two raced hard with light contact in turn three, Freeburg caught an infield tire and Raffurty somehow avoided becoming part of a calamity at the front of the fast-moving field. He'd hold on after a lap 26 restart, then led Jon Padilla, Austin Gray and Zack Forster the last four times around the oval.
"This was really huge," said Raffurty, $2,000 checkers in hand.
"I lost my dad (and fellow Mod Lite driver David) in January due to COVID," he continued. "Our goal had been to repeat everything we did last year. We won the race of champions, now we've won this and we're leading the national points."
"I don't know what to say but I think he'd be so proud of me now."
Qualifying feature winners Jason Masengarb, Raffurty and Freeburg were running three-wide for the lead before the first caution on lap five. Freeburg took charge from that point with Raffurty and Masengarb in pursuit.
Padilla, Gray and Forster stayed close but none would be able to deny Raffurty his second repeat of the day.
"I love being able to win this again," he said. "Being able to win both the race of champions and the main event, it's crazy. It's the last thing I expected."
A record 71 drivers from 11 states vied in the division's second Super Nationals appearance and 16 of them returned to the main event field from 2021. The top four drivers represented Missouri, Illinois, Iowa and California.
One of three New York drivers in the Big Dance, Joe Isabell's fifth-place finish was the best in Super Nationals history for any driver from the Empire State.
Jacob Copley made his way from 19th starting to sixth, Ronnie Choate from 20th to eighth.
Yoshimura bonuses of $250, $150 and $100 were paid to the top three drivers.
Feature results – 1. Dillon Raffurty, Kansas City, Mo.; 2. Jon Padilla, Silvis, Ill.; 3. Austin Gray, Story City; 4. Zack Forster, Bakersfield, Calif.; 5. Joe Isabell, West Monroe, N.Y.; 6. Jacob Copley, Milan, Ill.; 7. Jason Masengarb, Colona, Ill.; 8. Ronnie Choate, Cookeville, Tenn.; 9. Ben George, Altoona; 10. Bryce Vowan, Marion, Ark.; 11. Josh May, Des Moines; 12. Dustin Ford, Fontanelle; 13. Paul McCollett, Arkadelphia, Ark.; 14. Dalton Bell, Hoisington, Kan.; 15. Michael Raffurty, Kansas City, Mo.; 16. Jeffrey Isabell, Pennellville, N.Y.; 17. Randy Bryan, Ames; 18. Johnny Brown Jr., Mauriceville, Texas; 19. Kevin Carl, Port Neches, Texas; 20. Gage Raines, Searcy, Ark.; 21. Mike Kennedy, Boone; 22. Brandon Freeburg, Metamora, Ill.; 23. Alex Eischeid, Mechanicsville; 24. Joe Glick, Madrid; 25. Bryan Zehm, Ames; 26. Dallon Murty, Chelsea; 27. Jon Braathun, Story City; 28. Garrett Stonum, Lawson, Mo.; 29. Douglas Williams, West Monroe, N.Y.; 30. Joel Huggins, Des Moines.
Race of champions – 1. Dillon Raffurty; 2. Josh May; 3. Joel Huggins; 4. Scott Naggatz, Clear Lake; 5. Jon Padilla; 6. Randy Bryan; 7. JJ Borden, Hensley, Ark.; 8. Gage Raines; 9. Kyle Berry, Crosby, Texas; 10. Zack Forster.