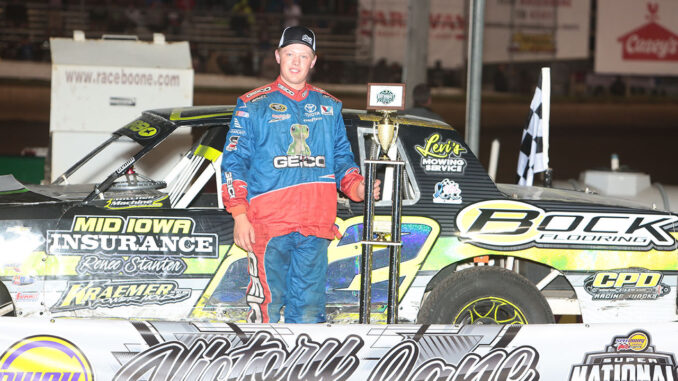 BOONE, Iowa (Sept. 4, 2022) – Logan Anderson and Mike Smith will bring momentum to Boone Speedway when qualifying starts for their respective divisions on Labor Day at the IMCA Speedway Motors Super Nationals fueled by Casey's. 
Both won Sunday night Prelude features in impressive fashion.
Anderson pocketed $750 after topping a Friesen Performance IMCA Northern SportMod main that ran 25 laps caution-free while defending Super Nationals champion Smith's flag-to-flag run to the $400 IMCA Sunoco Hobby Stock checkers was slowed by a single yellow.
"That was fun … I was happy to see the white flag for sure," Anderson said, following a Northern SportMod that needed just seven minutes and 47 seconds to complete. "It gets our momentum going. Hopefully we can get a good draw and get in the show tomorrow."
Robbie Thome challenged Anderson and was scored just ahead on a single late-race circuit before ending in second. Cam Reimers and Brayton Carter completed the top four.
Smith led Tyson Overton to the lap 10 caution in the Hobby Stock show. Eric Stanton took over the second spot on the restart and chased Smith the rest of the way, his engine expiring the final time across the stripe.
Overton was third and fourth went to hard charger James Johnson, who had started last in the field of 24.
One hundred and forty-four Northern SportMods and 87 Hobby Stocks vied on night two of the Prelude. The complete Late Model program is also on Monday's card.
The complete week of the 40th annual IMCA Speedway Motors Super Nationals fueled by Casey's will be broadcast by IMCA.TV.
Feature Results
Northern SportMods – 1. Logan Anderson; 2. Robbie Thome; 3. Cam Reimers; 4. Brayton Carter; 5. Miles Morris; 6. Shane Paris; 7. Lance Borgman; 8. Jake Sachau; 9. Kirk Beatty; 10. Ryan Gillmore; 11. Jarett Franzen; 12. Josh Appel; 13. Alec Fett; 14. Gregg Hamman; 15. Will Garceau; 16. Joseph Cooper; 17. Cory Kemkes; 18. Brett Berry; 19. Carter VanDenBerg; 20. Jace Whitt; 21. Andrew Pearce; 22. Ryan Moser; 23. Taylor Kuehl; 24. Eric Elliott.
Hobby Stocks – 1. Mike Smith; 2. Eric Stanton; 3. Tyson Overton; 4. James Johnson; 5. Craig Brotherton; 6. Curt Reed; 7. Calvin Dhondt; 8. Brandon Nielsen; 9. Chris Krug; 10. Thomas Daffern; 11. Tristan Grape; 12. Bob Daniels; 13. Seth Janssen; 14. Hunter Smith; 15. Brandon Cox; 16. Tom Killen Jr.; 17. John Watson; 18. Josh VanCannon; 19. Les Lundquist; 20. Dylan Nelson; 21. Josh Sidles; 22. Craig Clift; 23. Skylar Pruitt; 24. Bradly Graham.