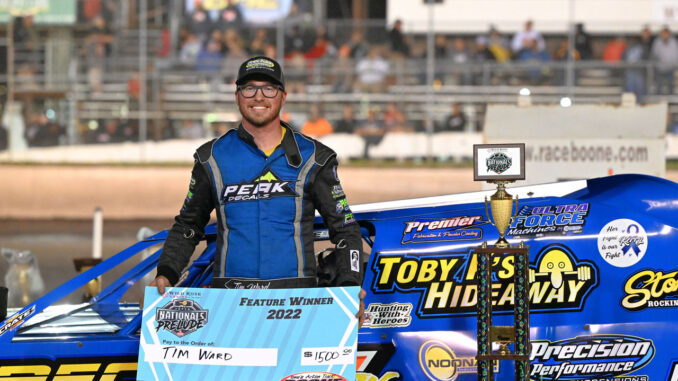 BOONE, Iowa (Sept. 3, 2022) – Tim Ward warmed up for the history-making 40th annual IMCA Speedway Motors Super Nationals fueled by Casey's by making some history of his own.
Ward became the first Friesen Performance IMCA Modified driver to win a career second Prelude feature at Boone Speedway Saturday night, following his 2021 run to the checkers with an impressive $1,500 victory.
The record number of entries for opening night of the eighth annual Prelude included 139 Modifieds, 134 IMCA Sunoco Stock Cars, 57 Mach-1 IMCA Sport Compacts and 71 IMCA STARS Mod Lites.
Ward motored past 2016 race winner Jimmy Gustin on the 14th of what proved to be 30 caution-free laps. Californian Jerry Flippo got the best of Gustin in their late battle for second. Texan Cory Davis and Wisconsin hotshoe Lucas Lamberies completed the top five.
Ward was already eligible to qualify for the Fast Shafts All-Star Invitational.
Devin Smith and then Jeffrey Abbey set the fast pace up front before Chanse Hollatz worked his way to the lead from 16th starting in the IMCA Sunoco Stock Car feature.
Hollatz passed Abbey following a lap 21 restart, then held on following one last caution to beat the Texas traveler to the checkers by 2.6 seconds. Defending race winner and 18th starting Dallon Murty, Smith and Brandon Conkwright completed the top five.
"The car just happened to be on a rail," said Hollatz, $1,000 richer and previously B & B Racing Chassis All-Start Invitational eligible. "This was definitely a huge confidence builder going into Super Nationals."
And Zach Bohlmeyer was the $250 Mach-1 IMCA Sport Compact winner after leading the last 12 of 20 circuits. Jacob Schwab, Devin Jones, Kolby Sabin and 2021 race winner Mitch Bielenberg were scored next.
Both the race of champions and Mod Lite main event are on Sunday's Prelude card, along with the Hobby Stocks and Northern SportMods. Hot laps are at 2 p.m. and racing starts at 3 p.m.
The Prelude and Sept. 5-10 IMCA Speedway Motors Super Nationals fueled by Casey's are broadcast by SPEED SPORT.TV affiliate IMCA.TV.
Feature Results
Modifieds – 1. Tim Ward; 2. Jerry Flippo; 3. Jimmy Gustin; 4. Cory Davis; 5. Lucas Lamberies; 6. Drew Janssen; 7. Mike Mullen; 8. Jacob Dahle; 9. Cory Sauerman; 10. Jared Siefert; 11. Ricky Alvarado; 12. Bricen James; 13. Tanner Black; 14. Aaron Turnbull; 15. Keaton Atkinson; 16. Matthew Day; 17. Kenny Kostenbader; 18. Russ Dickerson; 19. Jake McBirnie; 20. Jeff Larson; 21. Ronn Lauritzen; 22. J.D. Auringer; 23. Nick Roberts; 24. Todd Shute.
Stock Cars – 1. Chanse Hollatz; 2. Jeffrey Abbey; 3. Dallon Murty; 4. Devin Smith; 5. Brandon Conkwright; 6. Casey Woken; 7. Justin Luinenburg; 8. Jeremy Mills; 9. David Smith; 10. Eric Cross; 11. Mike Mullen; 12. Tathan Burkhart; 13. Mike Petersilie; 14. Johnathon Logue; 15. Scott Davis; 16. Josh Daniels; 17. Garrett Corn; 18. Austin Brauner; 19. Trent Murphy; 20. Troy Jerovetz; 21. Robert Waechter Jr.; 22. Logan Leary; 23. Doug Smith; 24. Paul Stone.
Sport Compacts – 1. Zach Bohlmeyer; 2. Jacob Schwab; 3. Devin Jones; 4. Kolby Sabin; 5. Mitch Bielenberg; 6. Blaine Ellis; 7. Mitchell Bunch; 8. Michael Hotze; 9. Oliver Monson; 10. Conner Brown; 11. Trent Reed; 12. Gilbert Aldape; 13. Tyler Fiebelkorn; 14. Aiden Wagner; 15. Devin Schmidt; 16. Mylee JoAnn Goldwich-Rhames; 17. Tim Schnathorst; 18. Taylor Brown; 19. Michael Gardner; 20. Ryan Brown; 21. Brian Newcomer; 22. Megan Sandvig; 23. Camden Nehring; 24. Jake Benischek.