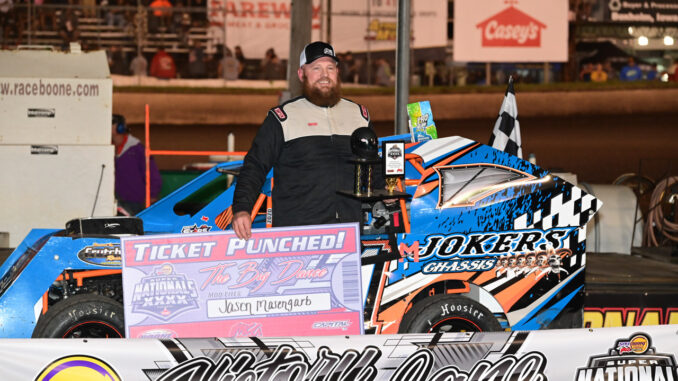 BOONE, Iowa (Sept. 3, 2022) – Jason Masengarb renews his pursuit of his first IMCA Speedway Motors Super Nationals fueled by Casey's championship from the pole.
Dillon Raffurty will take the green flag from Masengarb's immediate right when he races for his second.
Both won STARS Mod Lite qualifying features during Saturday's record-setting Prelude program at Boone Speedway.
Seventy-one drivers from 11 states were in the house for the division's second Super Nationals appearance. The top 10 drivers from both qualifiers advance to Sunday's Big Dance.
From Colona, Ill., raced his way to the front on two occasions, passing initial leader Dallon Murty following a lap seven restart and then driving past Joel Huggins after the final restart of the 25-lapper, with five to go.
"Hopefully we can get it done," he said from victory lane. "We are going to have a good starting position."
Lining up behind him on the inside row will be Joe Isabell, Joe Glick, Bryce Vowan, Huggins, Murty, Jacob Copley, Kevil Carl, Gage Raines and Michael Raffurty.
Defending Super Nationals champion Dillon Raffurty led all but the opening circuit in the bookend 25-lap qualifier. Eleventh starting Jon Padilla did his best to reel in the leader running in lapped traffic and finished just over three-tenths of a second off the pace.
"I didn't know what to think after my heat," Raffurty admitted after finishing third in that race and then drawing the outside row two start for the qualifier. "The track came around and I was able to do my thing at the end."
Making up the rest of the middle row will be third through 10th place finishers Zac Forster, Randy Bryan, Ben George, Douglas Williams, Ronnie Choate, Dalton Bell, Dustin Ford and Jon Braathun.
Qualifying for the outside row and the race of champions is on the docket leading up to Sunday's $2,000 to win Mod Lite main event.
Also on tap are Prelude programs for the Hobby Stocks and Northern SportMods; a record 401 cars saw Saturday Prelude action at Boone.
Sunday's program and the Sept. 5-10 IMCA Speedway Motors Super Nationals fueled by Casey's will be broadcast by IMCA.TV.
1st Mod Lite qualifier – 1. Jason Masengarb, Colona, Ill.; 2. Joe Isabell, West Monroe, N.Y.; 3. Joe Glick, Madrid; 4. Bryce Vowan, Marion, Ark.; 5. Joel Huggins, Des Moines; 6. Dallon Murty, Chelsea; 7. Jacob Copley, Milan, Ill.; 8. Kevin Carl, Port Neches, Texas; 9. Gage Raines, Searcy, Ark.; 10. Michael Raffurty, Kansas City, Mo.; 11. Blake Wilson, Mabelvale, Ark.; 12. Jeff Stensland, Nevada; 13. David Bailey, Carlisle; 14. Alex Eischeid, Mechanicsville; 15. Mike Pershing, Colchester, Ill.; 16. Kyle Berry, Crosby, Texas; 17. Clayton Hogie, Saint John, Kan.; 18. Johnny Brown Jr., Mauriceville, Texas; 19. Thomas Messamer, Des Moines; 20. Cory Sonner, Huxley; 21. Dylan Hollingshead, Sheridan, Ark.; 22. Paul McCollett, Arkadelphia, Ark.; 23. Scott Naggatz, Carter Lake; 24. Justin Raffurty, Kearney, Mo.; 25. Derek Foster, Maxwell; 26. Garrett Stonum, Lawson, Mo.; 27. Taylor Pollock, Prague, Neb.; 28. Rob Wagner, Lincoln, Neb.; 29. Randy Coleman, St. Louis, Mo.; 30. Mike Kennedy, Boone.
2nd Mod Lite qualifier – 1. Dillon Raffurty, Kansas City, Mo.; 2. Jon Padilla, Silvis, Ill.; 3. Zac Forster, Bakersfield, Calif.; 4. Randy Bryan, Ames; 5. Ben George, Altoona; 6. Douglas Williams, West Monroe, N.Y.; 7. Ronnie Choate, Cookeville, Tenn.; 8. Dalton Bell, Hoisington, Kan.; 9. Dustin Ford, Fontanelle; 10. Jon Braathun, Story City; 11. JJ Borden, Hensley, Ark.; 12. Justin Williams, West Monroe, N.Y.; 13. Sam Coleman, Farmington, Mo.; 14. Jeromy Wilson, Mabelvale, Ark.; 15. Chelsea Ladurini, DeSoto; 16. Nathan Wolfe, Lees Summit, Mo.; 17. Eddie Craft, Jacksonville, Texas; 18. Sara Anderson, Meservey; 19. Shane Jenkins, Vidor, Texas; 20. Ryan Ayers, Salina, Kan.; 21. Jeffrey Isabell, Pennellville, N.Y.; 22. Dana Chittenden, Rhome, Texas; 23. Josh Guy, Knob Koster, Mo.; 24. James Rollins, Arkadelphia, Ark.; 25. Cliff Barber, Nevada; 26. Rick Graves, Altoona; 27. Bryan Zehm, Altoona; 28. Jason Toppenberg, Ames; 29. Austin Gray, Story City; 30. Josh May, Des Moines.